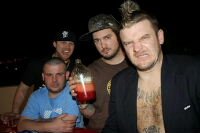 Dirty Sanchez, MTV UK's home-grown 'extreme stunt crew', release their globetrotting feature film DIRTY SANCHEZ: THE MOVIE this week, filled with scatological humour and stomach churning self harm. FilmExposed's Jimmy Razor cowered in fear at their press conference.

'This is all Stella is good for!' jokes Lee Dainton, one quarter of Dirty Sanchez, as he opens two cans of lager and pours them through a clear plastic hose into the rectum of Mathew Pritchard, another member of the group. While Al Green's smooth, mid-tempo soul classic 'Let's Stay Together' plays in the background, Pritchard pulls the hose out of his backside, waddles a couple of steps, and then expertly sprays almost a litre of Belgian beer a distance of four or five feet in a well aimed jet. Welcome to the world of Dirty Sanchez.

Inevitably, they're compared to Jackass, American MTV's charismatic stunt buffoons, who have a new movie of their own coming out shortly. But Dirty Sanchez are quick to point out their differences. 'They're boring!' claims group member Dan 'Joycey' Joyce. 'I went on a Gumball Rally with Bam and Ryan from Jackass, and they spent the whole time complaining their blackberries weren't working!' His response? 'I pissed on their car.'

But then the Sanchez boys' response to most challenges seems to involve body fluids, be they urine, vomit, semen, or in one particularly queasy example, liquid fat sucked from group member Mike 'Pancho' Locke's beer belly in a liposuction procedure, all captured on tape. Drinking the fat became a forfeit in a game they called 'Bangkok Roulette'. 'That stood out for me,' offers Dainton. 'I was on the roof of a hotel in Bangkok getting wanked off by a prostitute, and I thought, "What would my careers advisor at school have said about this?"' (It's Joycey who eventually has to down the fat - several times, as it keeps coming back up. 'I've developed a taste for it now,' he says. 'I want to eat some flesh next!')

Regular careers don't seem to have been an option for the boys, who originally met on the skateboarding circuit and gained fame through the underground skate video Pritchard vs Dainton (2003). They were picked up by MTV and haven't looked back. What would they have done without skating? 'I would have been a chef,' suggests Pritchard. 'But who'd let you cook after this?' laughs Dainton.

Shooting their feature film was a different kind of challenge, though. Director Jim Hickey explains, 'On our last day of filming in Russia we were told that we could film outside the Kremlin, but it turned out our fixer was just a travel student who lived one hour outside of Moscow and didn't know what he was talking about. Security came out and confiscated our equipment and we were banged up in a cell.' The powers that be wiped all of that day's tapes, but at least the gang were allowed to leave the country. 'We got out for $200,' he admits.

The boys even worried they'd be outdone by their Japanese counterparts. 'We've got scars, but they take the piss,' says Pritchard. 'These guys batter the living shit out of each other.' 'They look like they've been self-harming for decades!' adds Pancho.

So does Dirty Sanchez know where to draw the line? 'Oh, yes,' says Dainton. 'At the end of the day, it's a laugh. We're not starting wars, here. And I wouldn't go up to a random person in the street and do our thing.' 'We don't condone happy slapping,' Pritchard chimes in. 'We're nice guys,' Pancho offers. 'But not to each other,' adds Dainton.

Subscribers, to win a Dirty Sanchez T-Shirt and poster, tell us who plays The Devil in the film. Competition closes on Friday October 13th.