A FilmExposed Film Review
Brodeuses (A Common Thread) (12A)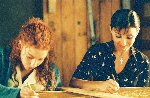 Dir: Éléonore Faucher, 2004, France, 87 mins, French with Subtitles
Cast: Lola Naymark, Ariane Ascaride, M. Lescuyer, Thomas Laroppe

Flame haired 17 year old Claire (Naymark) discovers that she is 5 months pregnant, and to maintain secrecy before putting her baby up for adoption she leaves her supermarket job. A keen embroiderer, she approaches Madame Mélikian (Ascaride) – reputable for her work with haute couture designer Christian Lacroix - in the hope of gaining further experience. Although initially reluctant to have company following the loss of her son in a motorcycle accident, Mélikian agrees to take her on as an assistant. The two grow close, and their work together becomes a therapeutic as well as creative exercise. As Mélikian begins to come to terms with her loss by helping young scarred Guillaume (Laroppe) accept that the accident was not his fault, Claire starts to contemplate on her future.

With Cate Shortland's beautifully atmospheric SOMERSAULT in the not too distant memory Éléonore Faucher's debut feature Brodeuses is breaking no new ground in focussing on a young woman's struggle to find herself and her place in the world. But where Heidi (Abby Cornish) in Somersault runs away from home and trades in intimacy, Claire, as confidently played here by a Lola Naymark, is a strong young woman that whilst not in control of her destiny, is very much in control of her sexuality. Though it is clear that her pregnancy was not planned, neither was she the naïve victim of a dominating male. One assumes that the father to be, who we are never introduced to though his identity is alluded to, is not on the scene precisely because Claire doesn't want him to be.

More fragile is Madame Mélikian – an enigmatic performance from Ariane Ascaride - whose grief at her son's death is clearly very raw. It is in the scenes between these two women that the quality of the film comes to the fore. Faucher and fellow screenwriter Gaëlle Macé's subtle script (joint winner of the Cannes SACD Screenwriting Award) carefully avoids superfluous conversation, having the courage to trust the performances, which duly deliver, whilst the photography makes full use of colour with Claire's vivid hair and green clothing a frequent focus.

Nature, and to a certain extent its cruelty, is a constant theme throughout the film. As Brodeuses opens Claire's hands are dark from the soil as she picks cabbages in a field, the vast expanse of Rhône behind her. Without the soil or water, nothing can grow. At times these metaphors on life and its cycle are overly pointed; as we see the two embroiderers working, the allegory is being displayed for us – the tapestry of life and the numerous threads that make it up. But the delicate nature and beautifully weighted performances of the film more than make up for this. We leave Claire still pregnant, not knowing what becomes of her or her child - a pleasing ambiguity that epitomises Brodeuses.