A FilmExposed Film Review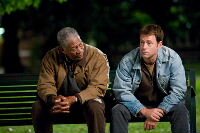 Dir: Robert Benton, 2007, US, 102mins
Cast: Morgan Freeman, Greg Kinnear, Radha Mitchell, Alexa Davalos, Toby Hemingway

Morgan Freeman has portrayed so many noble sages in his career he can probably play a film like Feast of Love in his sleep, but there's no doubt he does this kind of thing better than anyone else. In Robert Benton's romantic smorgasbord, Freeman is wiser than wise as the semi-retired professor who spends his days doling out advice to his love-struck neighbours. Sensitive coffee shop owner Greg Kinnear is crestfallen after his wife (Selma Blair) ditches him for another woman; teenagers Hemingway and Davalos have fallen for each other, but she has foreseen some dark portents in their future; while brittle real-estate agent Radha Mitchell is struggling to end her on-off affair with married man Billy Burke. These characters cross paths throughout the film, falling in and out of love with dizzying regularity, while Freeman watches over them with a wry smile and a twinkle in his eye.

Feast of Love is a strange film. It initially sets itself up as a full-on celebration of romance, like the similarly themed Love Actually (2003), but then some darker elements and harsher emotional truths are unexpectedly thrown into the mix. As a result, it's all a bit of a hodgepodge, featuring some wild tonal shifts and strange narrative decisions every couple of minutes; but while this unevenness is frustrating, it also keeps the picture more interesting than one might imagine, ensuring the audience never quite knows where events are leading. Benton's direction is solid rather than impressive, but he does fine work with the actors, and the performances from Kinnear, Mitchell and Davalos are the pick of a likeable ensemble. The exception among the cast is Fred Ward, though, who seems to be under the impression that he's appearing in a remake of Ernest Goes to Jail (1990), and the film would have benefited from losing this cartoonish character entirely.

Feast of Love is put together in a classy fashion and it's constantly enjoyable, but it never moves the viewer as much as it should, and the film's pretentious dialogue is a major factor in this. Almost every line in the picture hangs heavy with meaning, offering some philosophical rumination on the nature of love, and even actors of this calibre can't make sense of dialogue like "God doesn't despise us. If he did he wouldn't have made our hearts so strong". None of this is as profound as the filmmakers seem to think it is, and it ultimately proves to be self-defeating. Feast of Love wants to whip us up into a romantic frenzy, but it's hard to fully engage with the onscreen emotions when the characters refuse to talk to each other like recognisable human beings.