A FilmExposed Film Review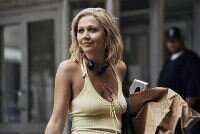 Dir: Laurie Collyer, 2007, USA, 96mins
Cast: Maggie Gyllenhaal, Brad William Henke, Giancarlo Esposito, Ryan Simpkins, Danny Trejo, Bridget Barkan

You can just picture Sherry Swanson (Gyllenhaal) on the Rikki Lake show, remonstrating with a baying audience, haplessly wedged between a couple of hillbillies. Reeking of inner city smut and downtown disdain, the twenty-something jailbird arrives home to New Jersey on a mission to patch up a precarious and disjointed relationship with her little daughter Alexis (Simpkins).

Sherry's greatest obstacle is her inability to see herself in the same light as the rest of the world sees her. For all her deep-seated goodwill, she is unwittingly crass and immoral. She tries to cut deals with her parole officer (a stern Esposito), she unzips the flies of authority figures (project manager and recruitment supervisor) and she unabashedly tells her seven-year-old daughter that she was imprisoned for stealing money to buy drugs. It seems her only aspirations for Alexis are that she inherits her Barbie doll figure.

Maggie Gyllenhaal must be praised for refusing to embrace her empathetic tendencies as an actress. Even her infamous turn as a feckless sex slave in Secretary (2002) was laced with a frothy, girl-next-door charm. Sherry is almost irredeemably contemptuous and yet she never strays far from her own truth. She out muscles an exceedingly bossy Hispanic battle-axe during her stay at a rehabilitation hostel and ends up bunny boiling over fun loving womanizer Dean (Trejo).

Her hollow quest to somehow satisfy her daughter is undermined by an incessant desire to be noticed. Her scenes with the reluctant Alexis make for uncomfortable viewing, not least when she leaps up on to her chair during a civil family get together only to screech a wretched rendition of Eternal Flame by the Bangles.

The second obstacle blocking Sherry's path to her daughter is her brother Bobby (Henke) and his wife Lynette (Barkan). They were lumbered with the task of raising Alexis whilst Sherry was in the can, only now the child has become far more than a niece. Lynette in particular, played with a downbeat doggedness by Bridget Barkan, is averse to Sherry's slapdash approach to parenting. Bobby is simply caught in the crossfire.

A scene in which Sherry is consoled rather too fervently by her father is supposed to hint at the root of her impetuous temperament and careless sexuality but feels abrupt and unconvincing. Thankfully, the finale is devoid of frills or pretension. Sherry must learn the art of humility before venturing to gain her daughters love. But despite a gallant performance from Gyllenhaal, one only wishes it hadn't taken the entire length of the film for her character to discover this message. Shame.