A FilmExposed Film Review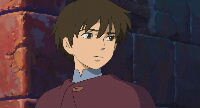 Dir: Goro Miyazaki, 2006, Japan, 115mins, Japanese with subtitles

While anime fans eagerly await Hayao Miyazaki's forthcoming Ponyo, Studio Ghibli's latest opus marks the debut of his son, Goro. A few years ago, Hallmark adapted Ursula Le Guin's first Earthsea novel into a mini-series starring Danny Glover. Ghibli has adapted the third, wherein Le Guin's older, wiser, wizard hero Ged (voiced in English by underrated Bond, Timothy Dalton, and in Japanese by yakuza film icon, Bunta Sugawara) befriends young Prince Arren, a tormented soul fleeing the darkness that drove him to murder his own father. Following numerous misadventures, Ged leads Arren to the rural tranquillity of Tenar's farm where he meets Therru, a mysterious girl with a scarred face and secret past. The youngsters grow close, but face the threat of slimy sorcerer, Cob.

Tales from Earthsea is a handsomely crafted, stirring, fantasy adventure, but has drawn criticism over decisions to alter characters Le Guin wrote as black, and over Goro Miyazaki's lack of animation experience (a landscape gardener by trade), where his father felt Goro lacked the necessary filmmaking experience, causing a rift between the two. The racial controversy must embarrass Ghibli founders Isao Takahata and Hayao Miyazaki whose films reflect their heartfelt, liberal idealism, but while the changes are regrettable, one doubts they were malicious. Anime characters are aestheticized interpretations of personality, and rarely resemble any specific race: black, white or Japanese. Earthsea boasts Ghibli's trademark storytelling flair and rich characterization. There's a wealth of subtext: death and rebirth, the darkness in men's souls, the reaffirmation of humanity via nature, a mature adult passing the baton to his young successor. Strong ideas, but Miyazaki explores them via heavy exposition instead of visual invention and struggles with reams of back-story. Instead of the moral complexity and gentle humanism of his father's films, Earthsea delivers a straightforward battle between good and evil.

On that level, it's fabulous, family entertainment with exciting battles, daring escapes, a lovely, musical interlude actually relevant to the plot, and a knockout duel between two ferocious dragons. It only suffers in comparison to other Ghibli epics. Face it anime fans, we've been spoiled. Hayao Miyazaki had a talking pig pilot battle fascists (Porco Rosso (1992)), turned his childhood anxieties into a spiritual uplift (MY NEIGHBOUR TOTORO (1988)), questioned his own core beliefs (Princess Mononoke (1997)), used folklore to examine the fallout from Japan's bubble economy (Spirited Away (2001)), and reworked a children's novel into a love letter to his wife (HOWL'S MOVING CASTLE (2004)). Compared to his mind-blowing ideas, Earthsea is lightweight. However, its eleventh hour twist, philosophical aspects and a climax of visual poetry elevate this far above the CG cynicism of Shrek 3 (2007). It certainly didn't deserve three Razzie nominations. Across Asia, Earthsea made more money than Pirates of the Caribbean 2 (2006), so Goro Miyazaki will direct again and is sure to develop his own voice, while Hayao Miyazaki's Ponyo reputedly concerns a father trying to reconcile with his son. That is what separates craftsmanship from pure genius.