A FilmExposed Film Review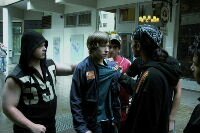 Dir: Detlev Buck, 2006, Germany, 98mins, German with subtitles
Cast: David Kross, Jenny Elvers-Elbertzhagen, Erhan Emre

Sharing certain thematic similarities with one of director Buck's much-loved films, François Truffaut's LES 400 COUPS (1959), Tough Enough is an urban tale of one boy's confrontation with adversity in a rough and tough neighbourhood in Berlin. Forced to move there from the affluent suburbs following the acrimonious separation of his mother (Elvers-Elbertzhagen) from her wealthy boyfriend, fifteen-year-old Michael (Kross) is sent to the local inner-city secondary school where a gang of vicious bullies targets him. But salvation (of sorts) arrives in the charismatic form of Hamal (Emre), a local crime-lord, who sees in Michael's innocent and unassuming face an opportunity to evade the police while plying his business: so in exchange for protection from his tormentors Michael agrees to ferry Hamal's drugs.

There is a digital, bleached greyness to the visuals of Tough Enough. With its gritty backdrops of dingy, inner-city concrete and squalid interiors, the pallid colour scheme is a suitable reflection of the immorality thriving in such deprived urban areas. The appropriateness of the mise en scène's aesthetics aside, the camerawork itself is often intrusively busy. While the array of camera movements and focus pulling demonstrates good cinematographic technique, it doesn't enhance the articulation of the narrative and so seems unsuitable. Moreover, it exhibits an overt interest on the filmmakers' behalf in the style of form, or – more accurately perhaps – in the formation of style. While the narrative doesn't necessarily suffer from this stylistic over-indulgence, it doesn't benefit from it either.

Where the film does suffer from stylistic over-indulgence is in the musical onslaught of its soundtrack. Trendy track after trendy track pepper it to such an extent that the ears bleed from repetitive strain injury. No sooner has one song finished than another begins, and each time to the detriment of dialogue, that is subservient in terms of volume. This wall of sound is off-putting to say the very least.

There is redemption, though, in Kross's central performance. Considering his tender young age of fifteen – nay, regardless of age and experience – his is a star-making turn. He is simply overwhelming as the initially gauche fish-out-of-water who must deal concurrently with his mother's promiscuity and beatings at the hands (or baseball bats) of savage thugs. His acting ability is a revelation and transforms a film that glories in stylistic superficiality into a more robust work of some integrity. Kross is eminently watchable, and the film inherits this quality too.