A FilmExposed Film Review
Last Tango in Paris (Ultimo tango a Parigi) (18)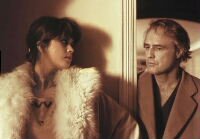 Dir: Bernardo Bertolucci, 1972, Italy/France, 136mins, English and French with subtitles
Cast: Marlon Brando, Maria Schneider, Jean-Pierre Léaud

"Get the Butter" was the line that filled theaters all over the world and was also the beginning of one of the most notorious sex scenes ever committed to celluloid. There are two critical camps concerning Bernardo Bertolucci's Last Tango in Paris: one that denounces the film as bad art cinema or just obscenity — it was banned by the Italian government who even burned a negative of the film and brought up Brando and Bertolucci on obscenity charges. The other proclaims the film a classic – it was nominated for two Oscars and one BAFTA. As graphic and groundbreaking as the sex scenes are, the act of sodomy on screen and the implicit moans were enough to shock in its day. Yet today it is the anger, malice, despair and pure sadism of the acts that remain hard to watch.

The emotional context makes this unremittingly sad portrait of mourning and emotionless sex such compelling yet brutal viewing. American Widower Paul (Brando) embarks on a purely sexual affair with the young, beautiful Parisian Jeanne (Schneider) in an attempt to both self-annihilate and anesthetize himself after his wife's suicide and her affair. "No names, I don't want any names," pleads Paul as he tries to create a world with Jeanne that has no past or future, just sex. Bertolucci creates a dichotomy between this world and Jeanne and Tom's (Léaud) relationship, which is framed within a frame as the superficial Tom directs his documentary on Jeanne. Both worlds are artificial, yet Jeanne and Tom's relationship is one that reflects the false world of smiling advertisements of young couples (referred to as "Pop Marriage"), while Paul and Jeanne's affair is also unnatural in its attempted ignorance of the outside world and elimination of emotion. There are two other notable dualities: Paul and his wife's lover have the same bathrobe and a similar looking apartment, and Jeanne's first love has the same name as Paul.

Brando's performance is a savage tour de force of absolute despair and pain. It is a truly unique and magnificent performance as he manages to draw deeply from personal experience yet embodies this disturbed individual. Schneider in comparison comes off as flat as she is often blown off the screen by Brando's dominating presence. But her performance never detracts from the film as some of the calmer scenes with Brando have the emotional honesty and intimacy of the bedroom scenes in GODDARD's BREATHLESS (1960).

Yet, Last Tango in Paris didn't exactly open the floodgates for films dealing with loss and emotionless sex, but it has enabled films to be more frank and explicit in depicting sex. Its influence can be seen in such films as PATRICE CHÉREAU's Intimacy (2001) and CATHERINE BREILLAT's Romance (1999). This film shouldn't just be seen because of its infamy, but for the masterpiece of seventies cinema it is; its qualities lie not just in Brando and Bertolucci's magic, but can be seen in the film's staccato editing style and the beautiful yet gritty cinematography of Vittorio Storaro, especially the rundown apartment bathed in amber light, and heard in Gato Barbieri's moving score.