A FilmExposed Film Review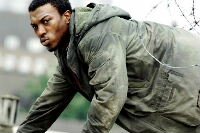 Dir: Gary Love, 2007, UK, 92mins
Cast: Steven Mackintosh, Ashley Walters, Andy Serkis, Tolga Safer, Teddy Nygh, Adam Deacon, Tracey Whitwell

Ashley Walters' latest big screen urban reprobate isn't such a far cry from the grime-spitting rapper who was infamously imprisoned for possession of a firearm in 2002. Admittedly, the ironically named 'D' (minus the Asher) represents a significantly overblown 'what could have been' portrayal of So Solid's favourite son. The careworn, crusty-lipped crack-head resides in a dilapidated estate-within an-estate, gargling special brew and scrounging the floors for his next fix.

He leads the anxious Horatio or 'Tom', (Mackintosh) as he likes to be called, into his imperiously secluded den to conduct a shifty gun deal. Tom shuffles in like a fish out of water, his razor sharp suit and slick-back hairdo smacking of the kind of inner city wealth that D can only dream about. To complicate matters, D owes a debt to Hoodwink (Serkis) – the local drug lord who will stop at nothing to get his own way.

Sugarhouse ebbs and flows like an episode of 24, negotiating rapid chase scenes and snappy violence through choppy, frenetic editing. Serkis' tattoo-bottomed beast rages with the kind of menacing zeal that Gollum could only have attained from a heavy dosage of steroids. Not since Ben Kingsley's psychotic turn in Sexy Beast (2000) have we seen such agitated delirium on screen. Hoodwink pursues D with Terminator-Esque possession, intimidating young girls and accusing and abusing three gormless stooges on the estate.

The opening minutes of Sugarhouse shift through grotty train stations and ethnically diverse market places. Strangers cast beady eyes, cursing and stomping into each other with frustrated aggression: 'Fuck you doin bruv?' But as soon as we enter D's lair, the film effectively sheds its authentic skin plumping for adrenaline and action over character and verisimilitude. In this sense, Gary Love's picture lacks the intricate plotting and detailed characterisation that underpin other recent urban Brit-flicks like Walters' own BULLET BOY (2004) and the impressive KIDULTHOOD (2006). Indeed, the film suffers from uneasy shifts in its rigid gear system. Particularly jarring moments include the vitriolic D staging a Trisha-for-hoodlums style counselling session for the beleaguered Horatio.

Ultimately, Sugarhouse bites off more than it can chew. Moments of melodrama, namely insights into D's tragic childhood and Horatio's crumbled marriage have already been drowned in senseless chaos and only stumble over the plausibility line. Never-the-less, the film remains eminently watchable, the performances from Walters and Serkis assuring exceedingly guilty pleasures.