A FilmExposed Film Review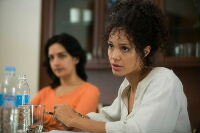 Dir: MICHAEL WINTERBOTTOM, 2007, USA/UK, 100mins
Cast: Angelina Jolie, Dan Futterman, Archie Panjabi, Irrfan Khan, Will Patton, Denis O'Hare

In early 2002 Wall Street Journal correspondent Daniel Pearl (Futterman) and his pregnant wife Mariane (Jolie), a French freelance journalist, were due to leave Karachi for Dubai when Pearl, researching a story about shoe bomber Richard Reid, arranged a meeting with the Islamic cleric Sheikh Gilani. Pearl never returned from the meeting, and his dismembered body was found in a shallow grave a month later.

A Mighty Heart, based on Mariane Pearl's book of the same name, is an account of the combined efforts of Pakistani counter-terrorism officers, American diplomatic security agents, the FBI and Daniel's colleagues to find him. This investigative coalition sets up its base of operations in the house of Asra Nomani (Panjabi), another WSJ journalist with whom the Pearls were staying.

What follows is more of a police procedural than the emotional melodrama some might expect. In fact, this film is a thriller, but one with a key difference. Whereas thrillers tend to avoid anything as distracting as sorrow infecting the story for longer than the occasional scene, A Mighty Heart, pulsing with excitement as it does, also contains a constant, building note of tragedy that eventually, unavoidably, explodes. It is a mark of the film's sense of reality that it inspires an agonising hope, in the face of documented fact, that things will somehow turn out all right.

WINTERBOTTOM, who began his career as a documentary filmmaker, has employed docudrama methods almost exclusively since 1997's Welcome To Sarajevo, and his signature technique brings a powerful resonance to this, his first major studio film. Not everyone will appreciate the fraught tempo and cacophonous Karachi street scenes, nor the position of slight emotional distance he keeps between camera and actors (Jolie is often filmed from behind, and in one scene literally from behind glass), but this latter decision more than anything gives the film a dignity that presuming viewers could 'share' in this experience would have made a mockery of.

The casting of Jolie has caused immense and well-documented controversy, from accusations of racism (Mariane Pearl is partly Afro-Cuban), dispute concerning her acting ability, to the simple fact that casting a huge star in the role detracts from the story's impact. Leaving the first issue for others to mull over, the second can swiftly be dismissed as misguided thought, while the third is a more personal matter. It can't be denied that on occasion, no matter how good a performance, the star can be discerned behind the character just as a lamp shines through a drape, but the film's naturalistic feel, as well as its breakneck pacing, mean that such moments are forgettably brief.

The performances throughout are excellent, particularly from Irrfan Khan as the Pakistani anti-terrorism officer known simply as Captain, and Denis O'Hare as John Bussey, the WSJ's foreign editor. Marcel Zyskind's handheld DV photography is another highlight, its hectic rhythms occasionally stilled by static, painterly shots that puncture the investigation's frenzy with mournfulness as the possibility of the worst outcome is considered.

When Mariane Pearl was interviewed by CNN during the search for her husband some noted that her demeanour didn't tally with their idea of a person whose husband had been kidnapped. Similar accusations of coldness will be levelled at A Mighty Heart because it denies the simplistic broad brush of melodrama in favour of a more nuanced consideration of anxiety and loss.