A FilmExposed Film Review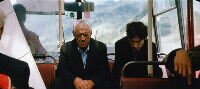 Dirs: GÉLA BABLUANI and Témur Babluani, 2006, France, 83mins, French/Georgian with subtitles
Cast: Sylvie Testud, Stanislas Merhar, Olga Legrand, Pascal Bongard

Three friends, Pat (Testud), Céline (Legrand) and Jean (Merhar) take a bus trip through rural Georgia, en route to a castle Pat has inherited. Accompanied by their interpreter, Nikolaï (Bongard), their curiosity is roused by the presence of an old man (Leo Gaparidze) and his grandson (Georges Babluani) travelling with an empty coffin. The men are going to a rival clan's village where the grandfather has volunteered to be shot dead to end a long-running blood feud. Intrigued, the French visitors follow the men, debating whether to film events or perhaps intervene. Yet tragedy waits at the village, as things don't go as planned.

Winner of the Special Jury Prize at Sundance, Legacy spins a dour, fatalistic yarn that is hard to warm to. Its characters remain peripheral to a premise that, while intriguing, remains sketchily developed. We learn very little about Pat, Céline or Jean, and next to nothing about Nikolaï (introduced being roughed up by gangsters in a sub-plot abruptly dropped), who plays a key part in events yet remains inscrutable throughout. Evidently, the directors' primary interest lies with the ill-fated duo: the old man and his grandson, which would be fine except, there is surprisingly little drama. The old man seems resigned to his impending death. His grandson gives little argument, dutifully accompanying him until fate springs a nasty surprise. It's all quite staid with no room for the story to develop.

Gela Babluani made a big splash with his debut film, the powerful, 13 (TZAMETI) and is currently at work on an American remake. Yet here the guiding light appears to be his father Temur, whose stated intention was to scratch beneath the Georgian tourist "illusion" and uncover the aftermath of civil war and a collapsed economy. While it features a few interesting eccentrics (an innkeeper who venerates Napoleon, a travelling peddler who pretends to be mute), Legacy's parade of muggers, abusive drunks, honour-driven blood feuds, and surly policemen seem calculated to give the tourist board some sleepless nights. Performances are solid all round, with Gaparidze and Babluani ideally naturalistic (if not as affecting as the filmmakers perhaps intended). Testud, Merhar and Legrand react believably to unfolding events, which is all they can do given that the script gives little sense of who their characters are.

Especially galling is the film's climactic about-face, condemning the French characters as exploitative tourists who bear part responsibility for the tragedy. Certainly, their decision to film is questionable, but is this fair? Pat, Jean and Céline seem compassionate, respectful, their actions don't hasten the inevitable tragedy – in fact, they try to prevent it. Yet Nikolaï feels smugly justified when he cold-shoulders Céline, declaring: "You're the kind I've tried to avoid, but can't." Yet the concluding shot of Nikolaï and his girlfriend dancing a little jig provokes nothing except head-slapping bewilderment.