A FilmExposed Film Review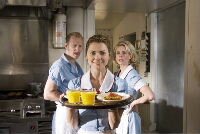 Dir: Adrienne Shelly, 2007, USA, 104 mins
Cast: Keri Russell, Nathan Fillion, Cheryl Hines, Adrienne Shelly, Jeremy Sisto

"I don't need no baby. I don't want no trouble. I just want to make pies. That's all I wanna do. Make pies." So says Jenna (Russell), heroine of this warm, sweet natured, hugely uplifting comedy, indie lovers would do well to make a must-see. Pie making genius, Jenna aspires to enter a $25,000 baking contest as a springboard to a better life, but winds up pregnant by no-good husband, Earl (Sisto). Not exactly aglow at her impending motherhood – she immediately bakes an "I Don't Want Earl's Baby Pie" – Jenna waitresses at Joe's Diner, alongside endearingly kooky friends, Becky (Curb Your Enthusiasm's Hines) and Dawn (Shelly), and plots her escape. Jenna's handsome (married) gynaecologist, Doctor Pomatter (Fillion) falls head over heels in love with her, leading to a passionate affair that, together with letters written to her unborn child, inspires our heroine's blossoming self-confidence.

Inspired by Shelly's own anxieties about motherhood, not to mention her love of baking pies, Waitress weaves humour, romance, tragedy and triumph into a soulful concoction that – clichés be damned – really is the feel-good movie of the year. It boldly tackles a subject studio comedies avoid like the plague: a mother who resents her unborn child. Shelly's screenplay is achingly honest and Russell does it justice with a sparkling, multi-faceted performance. Jenna's recipes are hilarious ("Pregnant Miserable Self Pitying Loser Pie", "Earl Murders Me Because I'm Having an Affair Pie"), but away from the gags (music soars when the lovers lock lips; snappy one-liners; Shelly's lovably-surreal Dawn) she remains endearingly complex (hypocritically berating Becky for having an affair). Fillion alternates splendidly between goofball charm and vulnerability and, like Russell, is strong enough to break out of television. Speaking of which, it's by no accident that TV icon Andy Griffith contributes a scene-stealing turn as curmudgeonly, diner patron Joe. Waitress reflects the big-hearted, homespun wisdom of Griffith's TV show, but with an incisive, contemporary edge.

A handful of scenes would benefit from more judicious editing. Mostly though, this movie is like one of Jenna's pies, made with loving care, gooey but delicious. Shelly utilizes glowing, golden hued cinematography (courtesy of D.P Matthew Irving) to convey her vibrant view of life. This was the writer-director-actress' third feature; following comedy/mystery Sudden Manhattan (1997) and rom-com I'll Take You There (1999). Hugely acclaimed for her firecracker performances in Hal Hartley's magnificent Trust (1990) and The Unbelievable Truth (1999), Shelly was a true, indie superstar. Her tragic, senseless death robbed her of the chance to see Waitress hit big at the Sundance Film Festival. Knowing it was intended as a love letter to her baby lends the film's closing shot a heartbreaking poignancy: mother and daughter slowly walking into the sunset. Remember Adrienne Shelly, for her classic performances in the Hartley films and for this warm, humane, labour of love.