A FilmExposed Film Review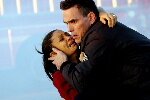 Dir: Paul Haggis, USA, 2005, 112 mins
Cast: Sandra Bullock, Don Cheadle, Matt Dillon, Brendan Fraser

An examination of race relations in modern Los Angeles Crash stars an array of leading Hollywood actors in half a dozen interconnecting storylines. Brendan Fraser is inexplicably cast as a cynical District Attorney, Sandra Bullock his petty-minded wife. Their comfortable existence is jolted by a robbery, the narrative centre of the film, and whilst Fraser attempts to negotiate the consequent political minefield, Bullock confronts her own attitudes to race. This latter is the defining theme of Crash, a valiant, if somewhat pat, attempt to deal with the messy realities of racism.

Every character in Crash is guilty of some form of racial prejudice, of apportioning blame to 'them'. Matt Dillon's frustrated cop allows his bitterness at his father's debilitating illness to spill over into his professional life. His humiliation of a black television director and his wife is a truly disturbing scene, a painful reminder of the all-too-recent beating of Rodney King. A Persian shopkeeper becomes convinced that his problems are attributable to a Mexican locksmith, and the pair of remarkably articulate and witty car-jackers holds forth on the treatment of black men by restaurant staff. Crash sets up these issues very well, skewering both unthinking liberals and unthinking bigots. It surveys the desperation with which the US establishment tries to avoid being accused of racism, even to the point of condoning gross injustice—clumsy tokenism, affirmative action, a country in which the phrase 'Merry Christmas' has been supplanted by the excruciating 'Happy Holidays'.

But having started so well, Crash falls away, unsure of what to do next. Director Paul Haggis considers it vital that the characters undergo some form of redemption. And so the film slides into melodrama. Despite its admirable refusal to offer any solutions to the intractable issues with which it deals, Crash does offer solutions for its protagonists. Cinematic therapy. The result is a simplistic plea for understanding, a disappointing conclusion to what went before. And when the links between the respective plotlines it is all a little smug and rather forced.

Crash is well-performed and competently directed. Its aims are certainly laudable and it doesn't shy from controversy: the liberal cop picks up a black hitchhiker who turns out to be on the run from a crime, controversially the cop should have trusted the instincts that he's so determined to dampen. But Crash lacks the courage of its convictions. It fails to realise its original promise.