A FilmExposed Film Review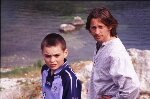 Dir: Pearse Elliott, 2005, Ireland, 82 mins
Cast: Gillian Anderson, Robert Carlyle, Tyrone McKenna, Ken Stott

The Mighty Celt is a bitter sweet hard knocks tale about young Donal (McKenna) growing up in Belfast with his single mother Kate (Anderson). Donal's passion in life is helping out a local greyhound trainer Good Joe (Stott). After naming a dog after his favourite comic book hero, The Mighty Celt, he strikes a deal with Joe to own the dog if he can train him to win three successive races. Good Joe seems to be filling the role of father figure for Donal but Kate longs to find a man to fill that role in the house. The reappearance of former love O (Carlyle) however was not the man she was ready to let into her and her son's life. As Donal becomes friendly with O Kate's attitude changes…as does Good Joe's. When Good Joe reneges on their deal Donal is faced with some harsh lessons in life.

Pearse Elliott both writes and directs this semi-autobiographical tale and his closeness to the material is clear through well studied and developed characters and a general fondness for the Belfast setting. The film introduces us to Donal playing street football with his mates using the wall dividing the catholic houses from the protestant as a goal. The helmets they wear protect them from the stones being thrown over from the other side, but the complete oblivion to the threat and total concentration on the fun they are having dispels any sense of political overtones and focuses on the closeness of the community Donal is growing up in. This is no Mike Leigh/Ken Loach film depicting depressing realism in the lower working class; this film loves its setting and invites the audience to love it too.

Indeed this film is heart warming in its nostalgia, but in some rather surprising ways. At one point Donal is nearly run down by a car tearing down the road only for the window to wind down revealing a boy barely 13 at the wheel. The audience should be shocked and appalled but it somehow comes across as sweet and funny….go figure. The clear attention to the every day details is the core of the film's strength whilst the film's performances bring out the best in an already strong script. Everyone impresses; Carlyle and Stott are both wonderful, Anderson is virtually unrecognisable and puts on a decent Belfast accent that will convince most, but the real star of the show is Tyrone McKenna, a brilliant find who carries the film on his small shoulders with aplomb.

The Mighty Celt is funny, heart warming and also heart rending; it is a film for all age groups except perhaps the youngest. The story is a good one well told and well delivered; kudos to Mr. Elliott on a brilliant debut.