A FilmExposed Film Review
A Very Long Engagement (15)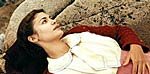 Dir: Jean-Pierre Jeunet, 2004, France/USA, 134 mins, Subtitles
Cast: Audrey Tautou, Gaspard Ulliel, Dominique Pinon, Jean-Claude Dreyfus

Director Jean-Pierre Jeunet was busy carving up old ladies on the butcher's table when he first came across Sébastien Japrisot's epic WWI novel. But while Delicatessen was a hit in France and a cult favourite over here, it wasn't until the worldwide success of Amélie that he could lure enough cash to realise an adaptation for the screen. Warner Brothers stepped in with 35% of the budget, and the result is one of the most ambitious and spectacular films in French cinema.

Mathilde (Tautou) and Manech (Ulliel) were inseparable childhood sweethearts, growing up in an idyllic rural village by the sea, tumbling together on the beach before retiring to the local lighthouse to steal kisses under the stars. A few years down France is at war and Manech promises to marry Mathilde on his return.

But when he doesn't return, Mathilde - refusing to accept that her beloved is lost forever - spends years piecing together Manech's final days in the hope of uncovering his fate. Each witness she encounters provides a different, heartbreaking story, yet she never loses faith. If Manech were dead, Mathilde would know.

Jeunet's attention to detail is breathtaking – the trenches in particular are expertly reconstructed warrens of filth and decay, the soldiers simply dead men walking. Warm monochrome and bursts of colour bring to life the decadence of 1920's Paris, a city trying to move on, while the darker, back-street scenes with their long shadows and high camera angles give Mathilde's desperate search the air of a noir thriller. The battle sequences are brutally honest, with an endless onslaught of exploding shells and bullets, but it's the nerve-racking wait to go over the top that really haunts.

Those familiar with Jeunet's previous films will be pleased to recognise the same old faces - Pinon, Holgado, Dreyfus and Cancelier - whose trademark eccentricities and Franco-humour are essential in alleviating the otherwise melancholy air. The icing, rather inevitably, is Tautou whose talent is matched only by her beauty. She carries the narrative effortlessly, offering just the right balance between heartbroken, naïve girl and wilful, determined woman. She has true star presence, in that one hopes the camera won't ever stray too far from her. Ulliel is a well-matched pretty boy, and even the hardest soul will feel a lump in the throat when the chance of re-union looks set to make way for Shakespearean Tragedy.