A FilmExposed Film Review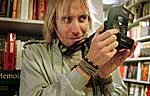 Dir: Roger Michell, 2004, UK, 101 mins
Cast: Daniel Craig, Rhys Ifans, Samantha Morton

One of the most memorable opening scenes in modern literature opens this adaptation of the Ian McEwan book, as Joe (Craig) and Claire (Morton) have their picnic crashed by a hot air balloon caroming across the field behind them. Hanging off the mooring rope is a grandfather trying to keep his balloon, with his grandson inside, from rising into clear air. Accompanied by four men, including Jed (Ifans), Joe sprints over but their grounding attempts are thwarted until just one man is left hanging onto the side. The men watch helplessly as he drifts away, falling to his death in a clear blue sky.

Traumatised and disorientated Joe wants to forget the afternoon and retreat back into his suburban routine with Claire. What he doesn't reckon on is Jed's pursuit of closure and the much darker secret that infiltrates both their lives, leading Joe to the brink of despair.

Director Roger Michell and scriptwriter Joe Penhall emerge impressively from the source material with an intense, swirling thriller that showcases some exquisite acting talent. Beautifully filmed beneath a patina of sunshine in the suburbs of London, the action focuses on the trinity of Claire, Joe and Jed culminating in a meeting with a gripping conclusion.

This is Ifans film from the beginning, even though Craig does much to erase the car crash of Layer Cake. Criminally underrated and known for playing either provincial characters (Twin Town), or the educationally subnormal (Human Nature, Notting Hill), many will not have seen him hold down the theatrical crowd in numerous stage productions. He was even good in The 51st State!

As Jed he's both sympathetic and pitiful, but this is the legerdemain that Ifans pulls off with such ease, underwriting and stealing every scene he's in. Craig adds to this tension with his now customary room smashing violence, so the only person who lets the cast down is the surly presence of Morton. Mercifully her screen time is reduced to comparing her acting to the clay and stone she uses in her job as a sculptor. There's also a screen kiss that will stay in your mind long after the film finishes.

McEwan's last adaptation to hit the screen was The Good Son, starring the precocious boy–man talent of Macaulay Culkin, so it must be satisfying to finally have this legacy on film. Finally, this year, a British film to be proud of.