A FilmExposed Film Review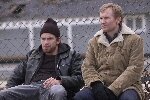 Dir: Susanne Bier, 2004, Denmark, 110 mins, Danish with subtitles
Cast: Ulrich Thomsen, Connie Nielsen, Nicolaj Lie Kaas

Army major Michael (Thomsen) has an improbably attractive wife Sarah (Nielsen), and a drifter loser for a brother, Jannik (Lie Kaas), who makes him look good merely by being drunk and inadequate. Despatched to Afganistan on a UN peace mission Michael's helicopter is blown out of the sky and to all concerned he's presumed dead. Distraught Sarah is comforted by Jannik who keeps a noble distance but also begins looking after the young family while making inroads into regaining the respect of his whiskey-slugging father.

So far so good but Brothers is a Danish film and anyone who sat through Festen will know that cultural protocol dictates that the family should sit down for a meal and all bonhomie will disappear in a series of agonizing goblet chinking exchanges.

Beginning with a series of pedestrian dialogues this drama thankfully finds its feet and becomes hypnotically uncomfortably to watch - as one suspect's only Danish films can be. Michael has survived but is trapped at the bearded infidel's pleasure and so we flip between his incarceration and Sarah's lachrymose mourning as news of him filters back. Nielsen is excellent, spending much of her screen time racked with deep emotional sobs, admirably backed up by Lie Kaas who inhabits his chain smoking ersatz James Dean impression with convincing authenticity. Festen veteran Thomsen is also good as the army man dispensing orders but as he descends into a delusional mindset there's the knowing suspicion that he has been slightly mis-cast, resembling as he does a sober Charles Kennedy, and his bond with his wife feels slightly implausible.

A minor grievance when offset by the film's impressive highlight, which arrives courtesy of a birthday meal appositely, described as "the worst birthday of my life". Recalling Festen with painful verity, the patriarch sits at the head of the table, the unchained brother at his side. Then as someone reaches for the vegetables… metaphorically the knife is plunged in with the randomness of a blundering maniac. The fall out is suitably devastating.

If only it had shaved off the final five minutes then Brothers would have been up there with the best of Scandinavia's export, especially when culminating in what would have been a powerful climax. Nevertheless this is a story of a family collapse with some fantastic edgy moments and filmed on such a small scale remarkable for the ease with which it lends itself to enthralling viewing.