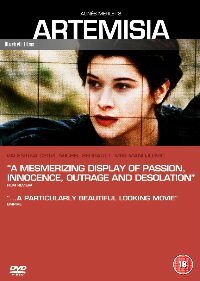 Dir: Agnès Merlet, 1997, France/Italy, 98 mins, French with subtitles
Cast: Valentina Cervi, Michel Serrault, Miki Manojlovic

Italy, 1610: aspiring, young artist Artemisia (Cervi) has a professional curiosity about male anatomy, forbidden to her eyes. Despite Artemisia's prodigious talent, her gender prevents her being accepted as an art student. Her father, established artist Orazio Gentileschi (Serrault), persuades dynamic, Florentine painter Augustino Tassi (Manojlovic), to take Artemisia as his student. Tassi opens Artemisia's eyes to new methods of composition, but his infatuation leads to her rape. Regretting his actions, Tassi professes love, but Orazio discovers their relationship and takes the matter to court. The result is poor Artemisia is interrogated and tortured, an event that will have a lasting influence upon her life's art.

Artemisia Gentileschi is considered the first, significant female painter in western art. An early baroque artist, influenced by Caravaggio, her startling depictions of violence won great acclaim and led her to become the first woman ever admitted into the Accademie di Arte del Disegno, in Florence. Many scholars have interpreted her painting, Judith Beheading Holofernes as a revenge fantasy against the violence Artemisia suffered. Upon release, Merlet's film faced criticism from the art world for portraying Artemisia's involvement with Tassi as a tragic love affair. Meanwhile, film critics disliked the ambiguous depiction of their relationship; neither naïve, girlish fancy betrayed by rape, nor full blown love.

One could accuse Merlet of trying to have her cake and eat it, yet in truth such ambiguity staves off snap judgements and serves the story well. Manojlovic renders Tassi vacant and self-serving, his eleventh hour declaration of love doesn't convince. However, this inconsistent characterization doesn't harm his climactic self-sacrifice, since Merlet appears to interpret it as the act of a wayward man, trying to do the right thing. By contrast, Cervi's fiery, multi-layered portrayal befits what more recent writers have striven for: a less reductive reading of Artemisia's life and work, presenting a dynamic, young artist who used her past and personality as weapons to fight against prejudice in the art world.

It brings to mind Germaine Greer's controversial declaration that rape isn't the worse thing that could happen to a woman. Perhaps if 'isn't' had been substituted with the words: 'shouldn't be', people would have a clearer idea of what Greer was suggesting. Though Tassi tries to convince her the rape was an act of love, Artemisia is able to reinterpret the trauma via her developing artistic awareness and see it for what it was. Cervi develops Artemisia from a wide-eyed ingénue into a passionate, young heroine adept at sorting lies from the truth. Merlet's roving camera explores undraped bodies with a painter's eye, while the beautiful cinematography of Benoit Delhomme evokes the range of Artemisia's palette with chiaroscuro interiors and idyllic landscapes saturated in gold. For all its faults, the film remains an entrancing journey into the mind of a truly significant artist.

For FilmExposed Newsletter Subscribers, we have two copies of Artemisia to give away. To win, please answer this: What style of painting is Artemisia noted for? EMAIL YOUR ANSWER to us by MONDAY 18 JUNE 2007.

And if you're not a subscriber, simply SUBSCRIBE and email your answer.