Lord of the Flies DVD (15)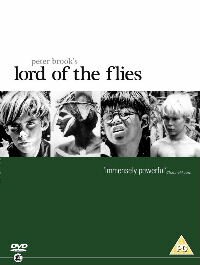 Dir: Peter Brook, 1963, UK, 87mins
Cast: James Aubrey, Tom Chapin, Hugh Edwards, 30+ other unknown kids

In this age of Big Brother we're used to the idea that our entertainment should be 'real'. We're also used to the idea that if you isolate a group of people in a confined space it'll be about five minutes before they start tearing their clothes off and turning into complete savages. Both of these modern precepts, though, were anticipated by Peter Brook's extraordinary 1963 adaptation of William Goldings' Lord of the Flies.

Peter Brook must have realised that the biggest obstacle to filming the classic novel was finding child actors at the start of the 60s who could actually act. Say what you like about modern films but the standard of kiddie stars has improved dramatically over the last thirty years. The director's daring decision, then, was to totally ignore the little luvvies of the time in favour of casting ordinary (albeit very posh) kids who'd had no acting experience at all.

In defiance of all that guff about never working with children or animals he flew them to the Costa Rican jungle for three months during their school holidays, gave them a script torn from the pages of Golding, and let them run with it while a novice crew struggled to keep up. To begin with the acting is, admittedly, terrible. When James Aubrey, who plays sensible leader Ralph, meets Hugh Edwards, who plays Piggy, the banter is very much school play quality.

After a while, though, you realise that that doesn't matter. Hugh Edwards is Piggy, James Aubrey is Ralph and, slightly disturbingly, Tom Chapin is Jack, the quasi-fascist 'head boy'. On its initial release, Lord of the Flies was given an X certificate and it's not hard to see why. There's a degree of cruelty in the way the director draws out his young stars' characters that is almost disturbing. To get the part Hugh Edwards wrote a letter to Peter Brook saying, tragic-comically, "I am fat and wear spectacles"; and it's not hard to imagine that those spectacles had been broken a few times in real life. The effect is as though Brook set up his own version of Lord of the Flies on set, both proving Golding's point about the darkness inherent to mankind and creating a dramatic tension that's much more convincing than any mere acting. On the fascinating commentary track version he says that he didn't want them to act, he wanted them to live the moment.

Of course, there is the possibility that Brook hyped up the degree of realism involved in the process. Although the camera work has a raw, cinema verite style, it's also much stylised with numerous memorable, artistically framed images. Maybe the kids all went back to their Winnebagos and made angry phone calls to their agents, demanding freshly squeezed lemonade after each day's screening. Ultimately, the methods Brook used are irrelevant because what's on-screen is a vivid and utterly uncompromising version of a classic novel.

Extras:
Includes commentary by director, producer, director of photography and cameraman/editor.

For FilmExposed Newsletter Subscribers, we have two copies of Lord of the Flies to give away. To win, please answer this: For which novel did writer William Golding win the Booker Prize? EMAIL YOUR ANSWER to us by FRIDAY 31 AUGUST 2007.

And if you're not a subscriber, simply SUBSCRIBE and email your answer.