L'Eclisse (The Eclipse) DVD (PG)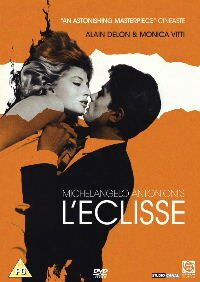 Dir: Michelangelo Antonioni, 1962, Italy/France, 125 mins, b/w, Italian with English subtitles
Cast: Alain Delon, Monica Vitti, Francisco Rabal, Lilla Brignone

Michelangelo Antonioni is generally acknowledged as one of cinema's greatest practitioners, a director whose work has raised film to a level usually associated with high literature. Astonishingly Antonioni is still working, undiminished by age (he is now ninety-three) or by his falling victim to a stroke.

L'eclisse is the final part of Antonioni's loose trilogy from the early 1960s (L'avventura (The Adventure) and La Notte (The Night) form the first two parts). The film delineates the end of one affair and the beginning of another soon to go the same way. Wonderfully photographed and studded with virtuoso sequences, L'Eclisse is a stunning realisation of the visual power of cinema. The narrative takes a back seat to set pieces such as an awe-inspiring depiction of the Italian stock-exchange, a flurry of meaningless activity incongruously flanked by a towering colonnade—Rome has descended from classical glory to empty capitalism. The scene offers a glance at the metaphysical heart of L'Eclisse—what should be considered important? How should one achieve happiness?

The beautiful Vittoria (Vitti) is the contemplative star of L'Eclisse. The film begins with her and Riccardo (Rabal) surveying the wreckage of their relationship. Clearly things are at an end, they can't paper over the cracks any longer—it is time for them both to find a new routine. Vittoria leaves and visits her mother (Brignone), but her mother isn't interested in her, not remotely, she is occupied only with the stock exchange; her stake is more than money—she has invested all of herself, obsessively visiting her broker Piero (Delon) on a daily basis. Vittoria can't communicate with her mother any more than she can with Riccardo; she is entirely isolated, a confused and rudderless young girl. The affair with the charm-free Piero is doomed to failure. His thoughts are depressingly mundane, grounded in the obnoxious certainty of a successful stockbroker. The two play their roles dutifully but the faux playfulness has a brittle undertone. When they are apart they remain untouched by thoughts of the other.

The narrative of L'Eclisse is not of particular concern to Antonioni. The film is neither a love story nor an anti-love story nor any kind of journey or quest. But it holds together perfectly; L'Eclisse is a coherent and articulate piece with a free-flowing energy that never flags. The abiding impression is one of a film that does as much as can be done with the form, an immensely satisfying work with a cinematography that is almost unparalleled. Someone should send a copy of this film to every director in Hollywood and force them, Clockwork Orange-style, to watch it again, and again, and again.

Extras:
Interview with Jose Mouré, author on the films of Antonioni.

For FilmExposed Newsletter Subscribers, we have three copies of L'Eclisse to give away. To win, please answer this: Alain Delon features on the album cover of The Queen is Dead by The Smiths. From which film is the still taken? EMAIL YOUR ANSWER to us by FRIDAY 31 AUGUST 2007.

And if you're not a subscriber, simply SUBSCRIBE and email your answer.