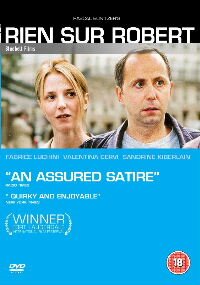 Dir: Pascal Bonitzer, 1999, France, 107mins, French with subtitles
Cast: FABRICE LUCHINI, Sandrine Kiberlain, Valentina Cervi

Middle aged magazine critic Didier (Luchini playing a similar character to the one he portrayed in Confidences Trop Intime (2004)) finds his comfortable and controlled existence twisting dangerously out of his control; everyone in Paris has read his savage review of a Bosnian film (and knows he has not actually seen it), his awkward girlfriend Juliette (Kiberlain - maddening) has been sacked for 'not being a team player' and he has been invited to a dinner with the intellectual Lord Chatwick-West (an excellent Michel Piccoli).

Naturally things go merrily downhill from there – his girlfriend seems sexually attracted to anyone but Didier and the dinner party invitation is discovered to be a dreadful misunderstanding which culminates in humiliation at the hands of his host. It is no surprise when Lord West's whacky stepdaughter (Cervi) attempts to seduce him nor for the two to be discovered in her room and for him to end up unconscious in a hospital bed.

With hints of classic French farce and with a plot constructed like an Escher staircase the film's characters seem trapped in circuitous relationships – at times it seems that Juliette will go to bed with each young man she meets and that Didier will somehow become accidentally acquainted with every one of them. Embarrassment and snobbery stalk though the film – Didier is humiliated by 'proper' writers for being a magazine hack and in turn feels shame when Juliette chooses to sleep with a TV director (the lowest form of life).

We emerge exhausted at the end of the film having seemingly emerged right back where we started. Certainly the dialogue, plot and characters contrive to make this one of the most mannered of all French films, but the pleasure is found not in a conventional story arc but in our discomfort and embarrassed laughter at the artificiality of some of the conversations and situations – Juliette's delightful description of buggery with a lover to an incredulous Didier, the inability of anyone (other than Juliette) to have sex without a parent or lover walking in on them, and the excruciating dinner party mortification all leave one wondering whether to laugh or recoil in horror.

Had Harold Pinter grown up in a bourgeois French family and developed a distinctly Gallic outlook, a certain Parisian je ne sais pas, he might well have come up with a script like this.

As French as a fois gras goose wrapped in a tricolour, Rien sur Robert is equal parts annoying, embarrassing, amusing and frustrating; indeed the main reason it may be worth watching (or at least glimpsed between your fingers) is to reassure yourself that embarrassment as comedy is not the sole preserve Larry David or Ricky Gervais.

For FilmExposed Newsletter Subscribers, we have two copies of Rien sur Robert to give away. To win, please answer this: Who directed Confidences Trop Intime? EMAIL YOUR ANSWER to us by FRIDAY 31 AUGUST 2007.

And if you're not a subscriber, simply SUBSCRIBE and email your answer.