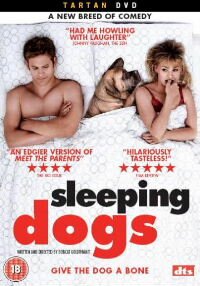 Dir: Bobcat Goldthwait, 2006, USA, 89mins
Cast: Melinda Page Hamilton, Bryce Johnson, Geoff Pierson, Bonita Friedericy, Jack Plotnick, Colby French

Sleeping Dogs, Bobcat Goldthwait's patchy but warm-hearted romantic comedy, is a film about secrets and lies, and the terrible problems which the truth can cause. Amy (Hamilton) is a young woman with a thorny dilemma; she wants to be completely honest with her devoted boyfriend John (Johnson), but should she really tell him about the time she performed fellatio on a dog during her college days? Perhaps this is something Amy should keep to herself, but when she seeks counsel with friends and family (none of whom know the true nature of her secret) she is advised that total honesty is the only way to make a relationship work. Amy's decision to confide in John is one, which will blow her previously happy life to pieces.

Goldthwait (best known as Officer Zed from Police Academy II (1985) onwards) treats us to the canine blowjob in the opening scene, but if audiences start bracing themselves at this point for a lowbrow gross-out comedy then they might be pleasantly surprised by the direction he subsequently takes. Sleeping Dogs slowly grows into an oddly touching film that weighs up the pros and cons of being truthful with your partner, and comes down on the side of honesty not necessarily being the best policy.

The film is at its best and funniest during the first half, when Amy's agonising predicament causes plenty of amusingly awkward moments, particularly the deliciously tense atmosphere that surrounds a family get-together. Bolstered by fine performances from Pierson and Friedericy as her parents, and a hilarious turn from Plotnick as her errant brother, it's like Meet The Parents (2000) with an extra helping of embarrassment and spite added to the mix. Unfortunately the story loses a little of its punch after this comedic high point, with Goldthwait settling for blander, more predictable set-ups in the second half of the picture.

The laughs become thinner as the film details the fallout from Amy's revelation, and the various ups and downs of her relationship with friendly work colleague Ed (French) are handled in trite fashion. While Goldthwait's writing can be sharp and perceptive, the film's low budget is all too evident in its flat, dreary visuals and rather irksome music. Nevertheless, Hamilton's endearingly wholesome performance in the central role plays a big part in giving the film some emotional weight.

The romantic comedy genre has become something of a creative wasteland in recent years - overstuffed with unimaginative, generic fluff lacking in both romance and comedy - so anything which gives this type of a film a little bite is to be welcomed. Sleeping Dogs never quite lives up to the promise of its sparky opening half, but it's a fresh and funny affair all the same, and it gives hope that there's a little life in this moribund genre yet. Here we have a romantic comedy based on bestiality; the mind boggles at which taboo might be the next to fall.

Extras:
Includes an interview with Bobcat Goldthwait; behind the scenes; trailer and scene selection.

For FilmExposed Newsletter Subscribers, we have three copies of Sleeping Dogs to give away. To win, please answer this: As an opening act in 1993, for which band did Bobcat Goldthwait perform his brand of stand-up comedy? EMAIL YOUR ANSWER to us by FRIDAY 31 AUGUST 2007.

And if you're not a subscriber, simply SUBSCRIBE and email your answer.