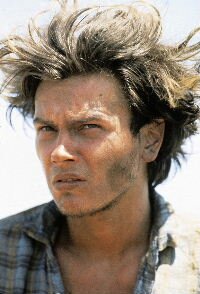 Dir: Sam Shepard, 1994, US, 97mins
Cast: Richard Harris, Alan Bates, Dermot Mulroney, River Phoenix, Jeri Arredondo

Sam Shepard's Silent Tongue is a baffling and pretentious western which has been mostly forgotten today, but events surrounding the picture have lent it a kind of historical significance. River Phoenix's untimely death in 1993 makes this film, released a year later, the last the young actor would ever appear in, but it's hardly a fitting epitaph. Phoenix plays Talbot Roe, a disturbed young man who has retreated into himself since the death of his Native American wife during childbirth. He maintains a constant vigil over her rotting corpse, sometimes having very physical encounters with her ghost, and his father Prescott (Harris) is understandably concerned. In desperation, he seeks out the family from which he originally purchased Talbot's bride some years ago and asks if he can buy her sister as a replacement, but the girls' father McCree (Bates) turns him down flat ("I haven't got a bottomless pit of daughters", he exclaims).

Refusing to take no for an answer, Prescott kidnaps Velada (Arredondo) and heads for home, praying that he isn't too late to save his son's sanity, and the film splits into three narrative strands at this point. There's Talbot's increasingly bizarre behaviour over his wife's body, Prescott and Velada's acrimonious cross-country trek, and the equally fractious relationship between McCree and his son (Mulroney) who are in pursuit; but none of this is as compelling as it should be.

Shepard is best known as both a playwright and an actor, but his second attempt to direct a feature film, after his debut Far North (1988), is disastrous. The director tells his story in a cripplingly slow fashion, and the surrealistic tangents he takes his film down feel false (particularly when the ghost of Talbot's wife is on screen). Surprisingly, his writing here is also a weak link, crafting a story which doesn't make a great deal of sense and forcing his actors to recite plenty of stilted and flat dialogue.

For their part, the actors get on with the business of acting, but they all seem to be performing in different movies. Phoenix mumbles incoherently and scowls his way through his handful of scenes, offering an unconvincing portrait of a tortured soul, while Bates goes over the top with his hard-drinking Irishman role, and Mulroney is a wooden presence. At least Harris and Arredondo find a nice balance in their segment of the story, both giving fiery and intense performances, and their scenes together are the most interesting in the film. But Silent Tongue's disparate elements never cohere, and the film's intrusive imagery and lugubrious pacing makes it something of a chore. It is telling that Shepard hasn't directed another picture since this misfire; perhaps he has wisely decided to focus in doing what he does best in future.

Extras:
Trailer

For FilmExposed Newsletter Subscribers, we have three copies of Silent Tongue to give away. To win, please answer this: River Phoenix won an Independent Spirit Award in 1992 for which film? EMAIL YOUR ANSWER to us by FRIDAY 31 AUGUST 2007.

And if you're not a subscriber, simply SUBSCRIBE and email your answer.