My American Uncle DVD (18)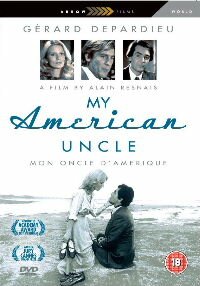 Dir: ALAIN RESNAIS, 1980, France, 125mins, French with subtitles
Cast: GÉRARD DEPARDIEU, Nicole Garcia, Roger Pierre

Classics Hiroshima, Mon Amour (1959) and Last Year in Marienbad (1961) are readily available, but it's a shame one of France's most visionary talents has been so ill represented on domestic DVD. Thankfully, that looks set to change and with his latest, PRIVATE FEARS IN PUBLIC PLACES (2006) currently in cinemas, now is an ideal time to view a lesser known title in Resnais' filmography. Drawing upon the theories of psychologist Henri Laborit (who provides onscreen narration), Resnais' wryly-humorous examination of human behaviour and its myriad consequences melds arthouse aesthetics with affecting drama. Our test subjects: businessman Rene (DEPARDIEU) fearing for his job, actress Janine (Garcia) wondering whether to break off an affair, and her lover Jean, a politically ambitious executive and writer, wracked by a mid-life crisis. Resnais follows their individual, sometimes overlapping, stories illustrating Laborit's notion that: "A living creature is a memory that acts."

Yet this is no dull, academic lecture. Resnais and cinematographer Sacha Vierney's sublime visual invention renders the 'cause and effect' theory into exciting, inspirational cinema. Beginning with the striking image of a beating, glowing heart, a montage of scenes, still photographs, and overlapping voice-overs, Resnais dissects his own drama. He examines characters every step of the way, through childhood, their teenage years, showing how influences both conscious and subconscious shape their behaviour. Clips from classic films starring Jean Gabin and Jean Marais showcase the undeniable influence of popular culture on all our lives (DEPARDIEU imitates Gabin when instructing an employee). Wildlife photography draws parallels between human and animal behaviour, but not in the bleak, Freudian sense but with a kindly, understanding attitude towards humanity's foibles.

There is humour here that borders on the Pythonesque (actors donning rat costumes to re-enact their dramas), and all three leads deliver touching, tragicomic performances that ensure the drama always hits home. Laborit/Resnais' theory that the urge to dominate is the fundamental root of all behaviour is, like any reductive reading of the human condition, open to debate. Though Laborit's closing plea that to solve the world's problems we should seek to understand ourselves better carries weight, Resnais perhaps oversells it a little by panning across a series of dilapidated buildings, which suggest the aftermath of war. Yet there is a lot of truth here too and rarely in cinema is it delivered with such warmth, panache and humour.

For FilmExposed Newsletter Subscribers, we have two copies of My American Uncle to give away. To win, please answer this: What is unusual about the three main characters in Last Year in Marienbad? EMAIL YOUR ANSWER to us by FRIDAY 31 AUGUST 2007.

And if you're not a subscriber, simply SUBSCRIBE and email your answer.