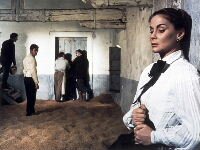 Dir: Luchino Visconti, 1954, Italy, 115mins, Italian with subtitles
Cast: Alida Valli, Farley Granger

This romantic tragedy marks Visconti's first step away from neo-realism towards the lavish, period spectaculars that made his name. Set in Venice during the spring of 1866, when the underground movement against the Austrian occupation of Italy is growing stronger. The married, Countess Livia Serpieri (Valli) encounters handsome, yet arrogant Austrian lieutenant, Franz Mahler (Granger) at the opera where her cousin, Roberto challenges him to a duel. Roberto is arrested and exiled, which at first leads Livia to despise Franz, but after a moonlit walk through Venice, they fall in love and she becomes his mistress. War separates the lovers, but when Franz visits in secret, Livia forgets her principles and betrays her cause.

Exquisitely framed, lit and photographed, Senso is a grand product of Italian cinema's golden age, if a notch below Visconti's masterpiece: The Leopard (1963). The director revisited his theme of social and moral decline amongst aristocrats betraying their principals, in the seedy decadence of The Damned/Götterdammerung (1969). Visconti was himself an aristocrat, who had a fairytale childhood growing up in a castle, but he was also a Marxist and tortured by his own homosexuality. Here, he produces a film that succeeds as a crowd-pleasing, matinee romance and a subversive reading of the genre. When juxtaposed with turbulent, historical events the lovers are unmasked as shallow and self-serving. Based on a novella, Visconti actually downplayed the romance and introduced the sub-plot about Livia's cousin and his rebellion against the Austrians. Amidst Technicolor splendour, passion leads to moral corruption, which marks Visconti as rather a Marxist spoilsport, but an honest chronicler of human nature.

Playwright Tennessee Williams co-wrote dialogue for the English language version, but this DVD features only the original Italian. Censors objected to the closing scene where Livia wanders the streets and is accosted by soldiers, which was re-shot to provide a resolution that, while not exactly happier, redresses the moral balance. At a time when Hollywood films showed married couples sleeping in separate beds, Senso is daringly open about Livia and Franz's illicit affair. Visconti originally wanted Ingrid Bergman and Marlon Brando in the starring roles, but his substitute leads don't disappoint. Valli is especially fine as the conflicted Livia. It's fascinating to see her here, young and radiant, before Eyes without a Face (1959) and Suspiria (1977) turned her into Euro-horror's, definitive wicked witch. Granger is stronger here than in most of his Hollywood roles, although Franz is such a narcissistic jerk ("I like to look at myself and make sure I am me"), you wonder what Livia sees in him. He settled in Italy, going on to appear in sleazy, exploitation gems like Amuck! (1971) and The Slasher is a Sex Maniac (1972).

Tinto Brass – of Caligula (1979) infamy – reset the story in World War Two, for Senso '45 (2002), re-titled Black Angel for its international release.

For FilmExposed Newsletter Subscribers, we have three copies of Senso to give away. To win, please answer this: A museum dedicated to Luchino Visconti can be found on which island? EMAIL YOUR ANSWER to us by FRIDAY 31 AUGUST 2007.

And if you're not a subscriber, simply SUBSCRIBE and email your answer.