The Rise and Rise of Michael Rimmer DVD (15)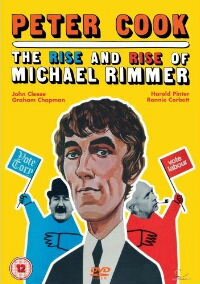 Dir: Kevin Billington, 1970, UK, 98mins
Cast: Peter Cook, Denholm Elliott, Vanessa Howard, Harold Pinter, Arthur Lowe

Peter Cook might have an undisputed place in the British comedy hall of fame, but the film industry never quite knew what to do with this unpredictable figure. Although he did score a hit with his longtime partner Dudley Moore in Bedazzled (1967), he subsequently found himself lumbered with shapeless roles in a series of mediocre films while Moore went on to find Hollywood fame with 10 (1979) and Arthur (1981). This great comic did find one perfect vehicle for his talents in 1970 though, with Kevin Billington's cruelly underrated satire The Rise and Rise of Michael Rimmer.

Michael Rimmer (Cook) is a well-presented young man who strolls into an advertising firm one day and - armed with only a clipboard and an enigmatic smile - begins taking control of the company from the befuddled Mr Ferret (Lowe, in a typically brilliant performance). He quickly destroys his competition through underhand means, sabotaging their polls ("42% of the population of Nuneaton are Buddhists") and poaching their star employee (Elliott); and Cook is in his element in this role. His restrained and knowing performance is excellent, making the central character a charismatic yet mysterious figure, and slowly revealing darker edges to his persona as the true motives behind Rimmer's behaviour come to light.

Cook also had a big hand in the film's screenplay, along with Billington and a pre-Python John Cleese and Graham Chapman, and the resulting script is an odd blend of social commentary and bawdy Carry On-style shenanigans. It's a mixture which doesn't always work, with the more un-PC gags feeling dated and dull, but The Rise and Rise of Michael Rimmer is very perceptive (almost prescient) in its depiction of politics and the media. Rimmer uses newspapers and television to manipulate the British public and to facilitate his inexorable rise to the most powerful position in the country. His success has been built on nothing more than image and spin, and Billington's film lands a number of satirical blows, which still ring true today.

It all proved a bit to much for some in 1970, with the film's release being delayed for fear of influencing the forthcoming election, and when it did see the light of day it was harshly judged by the press (the unmistakable historical echoes surrounding the climax wouldn't have helped matters either); but The Rise and Rise of Michael Rimmer is well worth rediscovering. It's a witty and cleverly executed satire that features the cream of British comedy talent on fine form, and it deserves to rise again.

Extras:
The picture gallery and original poster are rather pointless features, but Kevin Billington's enthusiastic, anecdote-filled commentary is a pleasure to listen to.

For FilmExposed Newsletter Subscribers, we have two copies of The Rise and Rise of Michael Rimmer to give away. To win, please answer this: Peter Cook was a founder and proprietor of which British satirical magazine? EMAIL YOUR ANSWER to us by FRIDAY 31 AUGUST 2007.

And if you're not a subscriber, simply SUBSCRIBE and email your answer.