Tell No One (Ne le dis à personne) DVD (15)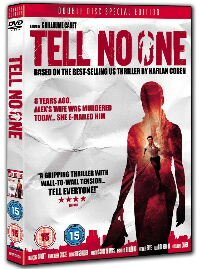 Dir: Guillaume Canet, 2006, France, 125mins, French with subtitles
Cast: Francois Cluzet, Kristin Scott-Thomas, Marie-Josée Croze, André Dussollier, Jean Rochefort, Nathalie Baye

Paediatrician Alex Beck (Cluzet) is left devastated by the brutal murder of his wife Margot (Croze). Eight years later, he receives an anonymous e-mail with a video clip showing a familiar looking face amidst a crowd being filmed in real time. It's Margo, silently mouthing the words: "Tell no one." Is she still alive? With help from his sister's girlfriend (Scott-Thomas), Alex sets out to uncover the truth, but the police consider him prime suspect in Margo's murder and sinister forces are intent on keeping it that way.

Best known as an actor – and Leonardo Dicaprio's co-star in The Beach (2000) – Canet's second film as director is an excellent thriller. Adapted from a novel by American crime writer Harlan Coben, the plot mechanics are admittedly redolent of Hollywood potboilers like Double Jeopardy (1999), but the focus here is on genuine emotion rather than melodrama. The film benefits enormously from Cluzet's touching performance, bringing humanity to every scene. A haunted man, stricken by loss, Alex's amateur sleuthing leads him to question whether he truly knew his wife at all.

A fantastic chase sequence through a busy motorway with Alex dodging the oncoming cars is reminiscent of the classic Jean-Paul Belmondo Le Marginal (1983), but Canet mostly forgoes bloated action set pieces and serves up lean, riveting thrills together with moments of visual poetry. Repeated flashbacks to Alex and Margot's childhood idyll, and a sudden revelation set to U2's With or Without You might sound cloying, but Canet turns them into spine-tingling cinema. A who's who of French acting talent lend fine support, with Dussollier particularly affecting as Margot's policeman father and Baye on fine form as Alex's feisty lawyer. Interesting idiosyncrasies like a sadistic hit-woman and an obsessive compulsive cop are nice touches, but Scott-Thomas' character – although well played by this underused actress – seems little more than a plot device. Heavy breathers take note: yes, she's playing a lesbian. No, things don't get explicit. It's a nice bit of Gallic restraint portraying a lesbian character without making her sexuality an issue.

French cinema has a long tradition of reworking American thrillers into cinematic gold, with Claude Chabrol and JEAN-LUC GODARD turning dime store paperbacks into scintillating explorations of the existential. In contrast, Canet's film is pure entertainment, but what's wrong with that? This is entertainment crafted with pace, wit and style, but above all else humanity. Alex truly loves Margot and goes through agony trying to recover the one ray of hope left in his life. Only the truly hard-hearted could fail to be moved by such a love, and the film's heartfelt conclusion.

Extras:
None.

For FilmExposed Newsletter Subscribers, we have three copies each of the Tell No One DVD and CD soundtrack to give away. To win, please answer this: In which Danny Boyle directed feature did Guillaume Canet star with Leonardo DiCaprio? EMAIL YOUR ANSWER to us by MONDAY NOVEMBER 5 2007.

And if you're not a subscriber, simply SUBSCRIBE and email your answer.