Love in the Strangest Way DVD (18)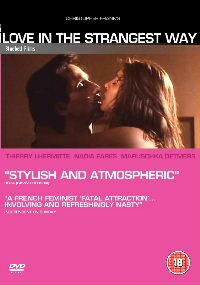 Dir: Christopher Frank, 1994, France, 107mins, French with subtitles
Cast: Thierry Lhermitte, Nadia Fares, Maruschka Detmers

Julien (Lhermitte), a smug, ruthlessly successful businessman, sees his family off on holiday, then spies a pretty girl in a café outside his office. He is soon drawn into a quirky, volatile affair with the capricious Angela (Fares), which backfires when she suddenly becomes his son's new nanny. Julien suspects Angela is out to destroy his life. He takes matters into his own hands, but that is only the beginning as events spiral out of control.

Though convoluted at times and a little too reliant upon coincidence, this is a satisfyingly twisted thriller. Frank teases with a Hitchockian, 'light' beginning (Julien and Angela's date interrupted by constant phone calls), but the way he develops his plot via elliptical details is closer to Brian De Palma. It isn't what characters see, it's how they interpret what is seen. Frank lacks De Palma's virtuoso camera technique and satirical wit, but makes each plot twist a turn of the screw in a story that springs continuous surprises. Less successful is Jean-Marie Senia's, Pino Donnagio style score with its screeching strings so overwrought they render several key scenes almost laughable.

The British born director Frank worked almost exclusively within the French film industry. He provided the source novel for Andrzej Zulawski's acclaimed L'important c'est D'aimer (1975), collaborated with actor/director Alain Delon on a series of lightweight, but fun action movies in the 1980s, and wrote the dismal, Burt Reynolds vehicle Malone (1987). He succumbed to a heart attack in 1993, before the release of this, his strongest film.

Frank's varied career suggests why Love in the Strangest Way wavers from arthouse psychodrama to glossy, Hollywood style, erotic thriller. One could easily imagine Michael Douglas and Anne Archer inhabiting Lhermitte and Detmers' roles. The misleading title suggests a tale of amour fou, but though the film boasts its share of sexy scenes, with Fares lounging naked for scant reasons beyond viewers' voyeuristic delight, quirky characterizations and some dark humour rank this higher than a soulless skin-flick. Its heart is pure schadenfreude: our pleasure comes from seeing a nasty, self-serving bourgeois type get the comeuppance he richly deserves. Best known for his comedic roles (including Claude Zidi's spectacular Le Ripoux (1985), which mocked exactly the kind of hard boiled thriller Frank used to write), Lhermitte is exceptional as the cocky philanderer whose life unravels spectacularly. Fares is well cast as the alluring, but unhinged femme fatale. Angela goes from psycho to tragic victim to avenging angel, and it's a nicely ambiguous touch that the viewer never quite pins her down, right until the last, stinging twist.

For FilmExposed Newsletter Subscribers, we have two copies of Love in the Strangest Way to give away. To win, please answer this: In which 80s bunny-boiler flick did Michael Douglas and Anne Archer play a married couple? EMAIL YOUR ANSWER to us by MONDAY 27 AUGUST 2007.

And if you're not a subscriber, simply SUBSCRIBE and email your answer.