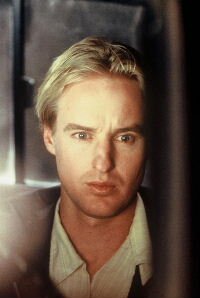 Dir: Hampton Fancher, 1999, USA, 111mins
Cast: OWEN WILSON, BRIAN COX, Mercedes Ruehl, Janeane Garofalo

This offbeat, psycho-thriller remains the sole directorial credit for Hampton Fancher, screenwriter of Blade Runner (1982). Based on a novel by Lew McCreary, its central character is Vann (Wilson), a fresh-faced, affable, young drifter who also happens to be a serial killer. A low-key, yet unsettling opening sets the tone: Vann befriends a heroin addict (a surprisingly effective, Sheryl Crow), whom he poisons and arranges to look like a suicide. "I've never done anything violent to anybody… just the minimum that was necessary", he recounts, in a chilling, matter-of-fact, voiceover. Vann rents a room from Doug (COX) and Jane (Ruehl), and becomes a surrogate son to the troubled couple who mourn their missing daughter. He finds success as a postal worker, and a budding romance with his co-worker Ferrin (Garofalo), but the inexplicable urge to kill remains.

Alongside films about hitmen, serial killer movies were dime-a-dozen in the Nineties with young actors, seeking to emulate Anthony Hopkins, bringing a litany of wisecracking psychos to the screen. Snappy one-liners and outrageous schemes are often so beguiling, audiences (and more than a few critics) fail to realise these characters represent screenwriting at its laziest. All dynamic qualities are transplanted to the psycho, leaving heroic characters colourless and uninteresting, and the movies vapid and soulless. The Minus Man is a cut above. Here the murderer is chillingly believable because he is placed amidst a well-drawn environment, inhabited by agreeably, complex characters. Wilson's performance is spot-on, portraying Vann not as a colourful madman but a complete nonentity, upon whom others project their fantasies ("I take the natural momentum of a person and draw them towards me"). Interestingly, his work here anticipates his later comic persona. Give that laid back, boyish charm on display in You, Me & Dupree (2006) a few tweaks and you've got yourself a sociopath.

Fancher's low-key, unobtrusive directorial style avoids the serial killer clichés, yet the bloodless murders do disturb (including Ugly Betty's Eric Mabius as a football hero, and a random diner at a roadside café, both dispatched via Vann's handy flask of poisoned amoretto). There are touches of dreamy Americana (slow-mo football games, white picket fenced idylls, the hypnotic open road), but Fancher – himself an actor in a string of westerns and cop shows during the 1960s – mostly centres on his performers. His long takes sap the energy from a few scenes, but vulnerable, touching performances from Ruehl, Garafalo and Cox serve him well. Not everything works: Vann's conversations with imaginary detectives (Dwight Yoakam and 24's Dennis Haybert) add little, his encounter with a spooky artist (Meg Foster) is an uncertain digression, and the final revelation, involving a murder he has nothing to do with will have some viewers scratching their heads. This is more a mood piece than a self-propelled narrative, but if viewed in the right frame of mind, it can get under your skin.

For FilmExposed Newsletter Subscribers, we have three copies of The Minus Man to give away. To win, please answer this: For which character did Owen Wilson provide the voice in last year's animation Cars? EMAIL YOUR ANSWER to us by FRIDAY 31 AUGUST 2007.

And if you're not a subscriber, simply SUBSCRIBE and email your answer.