A Chat With Paul Provenza...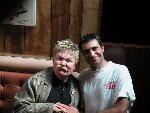 Comedian and film director Paul Provenza (pictured on the right with Rip Taylor) has no trouble riffing on the subject of his new movie THE ARISTOCRATS, a low-tech DV meditation on obscene humour. As to the underlying message he wants to convey, that's more difficult Provenza explains to FilmExposed's Jimmy Razor...

What's the thesis of the film?
That's a hard question to answer. People who've seen it tell their friends, "I can't explain, you just have to see it for yourself!" In short, 100 comedians do their interpretation of one joke. Frankly I don't know. For marketing, it's horrible – it's the film that can't be described! I like to think that it explores art and creativity and takes a look at the inside world of comedy. In it, the comics really let their hair down and explore what's obscene or taboo and what's acceptable. The point of the exercise was to look at comedy like it was jazz. To see where we could take comedy, to see if there were no boundaries... we like to think of it as a love story.

How did you persuade so many comedians to contribute?
We told people "It's a crazy idea, we don't know where it's going, it'll do nothing for your career and you won't get any money." Some people said, "How are you going to do this?", and we said, "We have no idea!" It was an experiment. People were very free and loose. Jon Ross - the guy you see telling the joke in the men's room - said, "If I'd ever imagined this would see the light of day, I would have showered and put on a clean shirt!" We had no expectations or pre-conceived notions - the movie sprung from what happened. And so it has a certain authenticity.

Were there any comedians who wouldn't appear?
There were some people who we would have loved to put in the film, but couldn't. We spent a lot of time on the phone with Buddy Hackett, who was one of the few comedians we knew who'd actually told the joke on stage. He did a couple of versions for us on the phone, but he said, "I think I'm not well enough to do it on camera." And three weeks later he died. A lot of the old timers were just too sick, or had passed away before we could film them.

THE ARISTOCRATS certainly challenges boundaries. Was anything considered off limits?
No! We get to say '****** *****.' [Provenza casually throws out two obscenities which would make FilmExposed turn up under some rather alarming Google searches.] That stayed in. I don't think there's anything that could be more offensive! So no, nothing was too strong to be included. We haven't changed the film for different international markets, either. Nobody's objected to the content. And in a way things are stricter in the States than anywhere else.

And what's next for Provenza?
I'm making a film of the children's book Everyone Poops. How am I going to do it? People ask me that. … I have no idea!