Film Noir: From Berlin to Sin City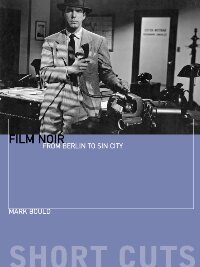 Author: Mark Bould
Publisher: Wallflower Press

An introduction and overview of film noir and the critical theory that surrounds it, Mark Bould's Film Noir: From Berlin to Sin City concurs with the widely accepted version of the genre's genealogy. With its roots in the Weimar cinema of post-First World War Germany, characterised by such expressionist masterpieces as Das Kabinett des Dr. Caligari (1919), film noir also owes a hefty debt to French poetic realist works - for example Jean Vigo's L'Atalante (1934). It was the combination of the more ambiguous, sometimes abstruse artistic imperatives at work in these genres with the hard-boiled American crime films of the 1930s (Little Caesar (1930) and Scarface (1932)) that gave birth to one of cinema's most allusive, intriguing and resilient genres.

Repeating Mark Vernet's wry claim that 'the Americans made [film noir] and then the French invented it', Bould points to the post-Second World War influx of American films into liberated France as the moment when the term 'film noir' first came into usage. He traces its origin to Série Noire, the title of a series of pulp crime novels which began publishing in 1945. It seems nothing more than a fortuitous coincidence that the term fitted the paranoid psychological character of the films as well as it did their look, which in many cases was derived from a need to disguise the meagreness of sets designed according to parsimonious wartime production directives.

When discussing the films themselves - although he is careful to argue that the noir canon is built on shifting sands - Bould proves an astute and at times inspirational analyst. His exploration of D.O.A. (1950), Detour (1945), and Sunset Boulevard (1950), in particular, leaves you eager to revisit them. He cites these three films as exemplars of the strand of entrapment that runs through the main cycle of films noir (not 'film noirs', as Bould has it). The other dominant strand identified here is that of investigation, which naturally leads into a discussion of the most famous, if not the first, hard-boiled private eye: Philip Marlowe. 'Whatever its relationship with hard-boiled fiction', Bould notes, 'film noir should not be seen as a mere transcription from one medium to another.' Rather, while 'the investigation was a staple film noir plot', the answers to the mysteries posed were more often than not 'obscured, distorted, derailed. While the underlying logic of this plot is that the world can be known, the film noir investigator frequently struggles to reconstruct and tell an order of events that make any kind of sense.' Indeed, as Bould recounts, so byzantine were some plots, and so complete the privileging of scene and atmosphere over storyline, that Bogart asked director Howard Hawks who asked screenplay writer William Faulkner who asked novelist Raymond Chandler who killed one of the characters in The Big Sleep (1946). Not one of them knew.

But the difficulty of making sense of things does not apply only to the films in question in Bould's book. In common with many writers who have settled in the academic hothouse, Bould - a lecturer in film studies - has perfected the art of the often inelegant, the occasionally impenetrable, and even the simply incorrect. As well as using both the phrase 'amour fou' and the word 'superfice' tautologously, he frequently leaves the reader entangled in thickets of unnecessarily sesquipadelian verbiage. That's how he'd put it, anyway.

Such lapses are unfortunate, because Bould can be incisive when he wants to be. Witness his glossing of the American films of Siodmak and Lang, the two German expressionists who did more than anyone to foster the noir outlook, as 'palimpsests, as overwriting fatalist Weimar sociopsychology and expressionist ethics onto the American crime film'; or his discussion of neo-noir, in which he posits that the genre has remained alive almost constantly since its main cycle (commonly held to stretch from The Maltese Falcon (1941) to Touch of Evil (1958)). His arguments can be lucid and engaging, although they often feel rather squeezed for space.

That said, the book under review is clearly meant as an introduction. Readers looking for more in-depth discussions can turn to the excellent More Than Night: Film Noir in its Contexts by James Naremore, or Raymonde Borde and Etienne Chaumeton's more specialised A Panorama of American Film Noir, 1941-1953. For those new to the genre (or category, or grouping - the jury is still out, it seems, on just what to call it), however, Bould proves a decent enough guide, even if his explanations occasionally result in the sort of murky puzzlement more commonly provoked by the femmes fatales that populate the noir canon.