A Chat With Bobcat Goldthwait and Melinda Page Hamilton…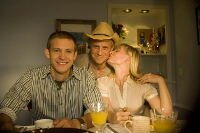 Amy's bizarre sex secret in SLEEPING DOGS could have resulted in an entirely different film altogether. However, in the smart hands of director Bobcat Goldthwait (pictured here in the hat) coupled with Melinda Page Hamilton's very likable Amy, a surprising indie hit was born. FilmExposed's Phil Concannon went to meet them and discovers that given the nature of that sex secret, the reaction to the film wasn't quite the one expected…

Bobcat Goldthwait can't quite believe the journey Sleeping Dogs has taken him on over the past year. From humble origins, the film has been a hit with audiences at the Sundance, San Sebastian and London film festivals, and this kind of exposure was the last thing the writer/director expected. "I truly never thought I'd see it in a theatre and I never thought I'd see it in any film festivals" he admits, "I thought I'd just get it done, and then sell it to a company who would put it out as a DVD so Marty (Pasetta), the other producer, and myself would make our money back, that was the only goal. It has just exceeded all my expectations".

The film's success is even more surprising considering the story's bizarre starting point. This unorthodox romantic comedy stars Melinda Page Hamilton as Amy, a woman whose relationship is shattered by the revelation that she performed fellatio on her pet dog while in college. You might expect something outrageous from the anarchic comedian, who once set fire to his chair on Jay Leno's TV show, but time seems to have mellowed Goldthwait and his film reflects that, offering a thoughtful examination of serious themes. "It's not an exploration of bestiality" the director states, "it's an exploration of relationships, and not just romantic relationships, but relationships with your family too. I think all families have stuff you never talk about and it's always there, you know. There are just all these lies we tell ourselves to get through". The film argues that honesty isn't necessarily the best policy, a stance that has provoked some surprising reactions. "I don't run into people who have a problem with bestiality, although I'm sure they're out there" Goldthwait says, "but the people who have a problem with this movie get really mad over the idea of being dishonest with a spouse. I don't understand that. I think full disclosure is a way to hurt the other person and it's also a pretty good way to end a relationship".

Sleeping Dogs carries a surprising amount of emotional weight along with the laughs, and much of that is thanks to Hamilton, whose charming performance has won rave reviews. Despite the taboo subject matter, she had no hesitation in making this her first film role. "The great thing about being a relatively new actor to LA is you don't have anything to protect" she says, "every job is an opportunity. I think we all thought "at least we'll get some good tape for our reels", and none of us expected any of this to happen". Goldthwait is full of praise for his lead actress, and he's certain she has a bright future ahead of her. "I know this movie will eventually just be a footnote as her first movie" he says, "I truly believe she'll have a great career, and her career will be any way she wants. If she wants to make indie films she can do that, if she wants to make big pop movies she can do that, and I know that".

Shot in just sixteen days, with a crew full of college students, and financed by credit cards, Goldthwait had to cut a few corners to get his picture made. Hamilton jokingly describes it as "kamikaze guerrilla filmmaking", but she thinks this approach had some benefits. "None of us had time to think about things too deeply and we just had to jump right in. There was no choice, you just had to show up and be 100% in every single take". Goldthwait admits he had to bend some rules during the hectic shoot, even breaking into a stranger's garage to shoot an important scene. "I told the crew "we've got to be quiet tonight, because this is a really crucial scene, and we have to respect the actors". One of the crew kids said "you don't have a permit again, do you?" and I said "dude, I don't even know whose fucking house this is"".

Before this film, Goldthwait's only feature as a director was his cult comedy Shakes the Clown (1992); will we have to wait 14 years for his next offering? "Yeah, I'm not really prolific" he laughs, "but that's the thing I learned from this movie - I don't have to wait. I'd still like to do what I've been doing, directing other comedians on television, and then go off and make my own little movies". And as Sleeping Dogs has proved, little movies can have an unexpectedly big impact.