A Chat With David Leaf and John Scheinfeld...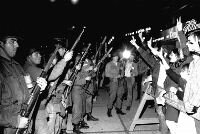 THE U.S vs. JOHN LENNON plots the turbulent relationship between Lennon and the US Government. Mixing and sympathising with radicals in 70s New York, the government viewed Lennon as a threat, and at one point, tried to get him deported. FilmExposed's Christopher Whalen chats with the film's directors David Leaf and John Scheinfeld…

What were your aims in making this film?
David: A major goal was to remind everybody what John did artistically after the Beatles, why he mattered so much then and why his art still resonates so strongly.
John: We were also driven to explore within the context of this story, issues of freedom of speech, government abuse of power and to illuminate John and Yoko's firm belief that, as individuals, we can all make a difference when it comes to critical issues of the day. "Apathy," as John said, "isn't where it's at."

How much of The U.S. vs. John Lennon is new? Does it change our understanding of John Lennon's legacy?
John: Some writers, historians and critics knew the details of this story, but the general public did not. Most of the events took place in secret and it wasn't until FBI documents were released under the Freedom of Information Act in the 90s that the big picture of what the Nixon administration did to try and silence Lennon became clear. We felt it was crucial to set the story against what was happening in America at the time, socially, politically and culturally.
David: Thanks to an extraordinary cast, we've told the story through the eyes of the people who were there. By doing that, the audience walks away from the film with a real understanding of what John Lennon did, what it meant and why more than a quarter of a century after his death, the world still mourns his loss and celebrates his life and art.

What mistakes did you make during the production of this film?
David: I wish we had included footage of England and Japan being bombed during World War II, so that the audience would be reminded of the fact that both John and Yoko grew up during a time where they saw, first hand, the horrors of war.

How did you divide the filmmaking duties? What are your strengths and weaknesses?
David: I am probably more ruthless in throwing out sequences that are fascinating and well-edited but take the film away from the through line.
John: David has called me the Hercule Poirot of documentary filmmaking and I must confess I thoroughly enjoy the detective work. In our search for footage of the day John got his green card, we had seen photographs that showed the event was filmed by news crews from New York TV stations, but were told repeatedly that the footage had long ago been destroyed. Although we had interviews in which our witnesses describe the day's proceedings, it's always better to show than tell. So we pushed and pushed and made a nuisance of ourselves. Finally, with a mere three weeks to go before the movie was finished, we found it. Misfiled, mislabeled, in a far corner of a news archive, was a box of film containing 10-minutes of local coverage including, happily, John's brilliant and spontaneous response to a reporter's question about any lingering resentment he might have against the US government.

Are your own ideologies and prejudices reflected in your films?
David: As much as I try to emulate my journalism school hero, Edward R. Murrow, I believe that there is no way for ideology or prejudice not to affect the work subtly. I went to school in Washington, DC during the Nixon administration. My dormitory was five blocks from the White House. CREEP (the Committee to Re-Elect the President) was an office we passed every day. The Watergate was nearby. There was constant political activity and frequent demonstrations. We used to say that we got tear-gassed whether we wanted to or not.

How do you view the role of a documentary filmmaker?
David: Our job is to find stories about which we're passionate and tell them, finding a way to let the story unfold in a way that when the film is done, it feels completely natural and obvious, as if that were the only way to tell the story.
John: I liken it to a jigsaw puzzle – we have disparate pieces that must be fitted together to make a coherent whole. The difference, however, is that a jigsaw puzzle only fits together one way. In what we do the pieces could be put together 10 ways, 20 ways, 100 ways. It's how they are put together that makes a film good, bad or ugly.

Are you more interested in the past than the present?
John: Past and future are inexorably linked. To determine where we are going we must understand where we've been. Philosopher George Santayana said it best: "Those who cannot remember the past are condemned to repeat it."

Has making documentaries changed the way you think about history?
David: At least 95% of the material we gather (archival footage and audio as well as new interviews) doesn't make it into the finished film. It has reminded me that history is a lot more complex, much less black and white, than what we're taught in school or what you can get from a 90-minute movie.

In what ways do you rebel against the conventions of the documentary genre (if there is such a thing)?
David: I think one of the things that distinguishes The U.S. v. John Lennon is that there is no narration. Essentially, John Lennon is telling his story, through archival audio and video and through his music. And I think that really helps make a direct connection with the audience. Who doesn't want to spend 90 minutes with John Lennon?