The Lure of the Vampire: Gender, Fiction and Fandom from Bram Stoker to Buffy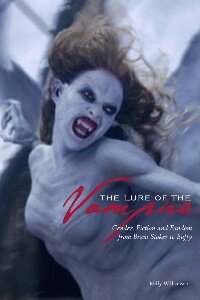 Author: Milly Williamson
Publisher: Wallflower Press

You'd be forgiven for thinking that vampire criticism lies prone, drained of blood and soul by generations of over-eager Gothicists. It's so hard to find something original to say about our fanged brethren that Phd supervisors up and down the land warn off new recruits from writing about Dracula - and the same is fast becoming true of Buffy, Anne Rice's Vampire Chronicles and anything and everything in between. But Milly Williamson's book proves that vampire literature's corpse is, if not completely animated, capable of a convincingly lifelike twitch.

This is a wide-ranging text in every sense, spanning from early Gothic to contemporary manifestations of vampire writing, and employing theorists as diverse as Julia Kristeva and Pierre Bourdieu. Williamson kicks off with an analysis of Dracula as a manifestation of Victorian readers' fears of anatomical dissection after death, and then proceeds to show how the vampire has become a sympathetic, rather than a terrifying, figure. The second part of her book deals with fans of vampire culture - their own subdivisions, what appeals to them about vampires, and what this has to say about the field of cultural production as a whole.

Williamson is most sure-footed when writing about vampire fandom, particularly when reassessing our ideas of fan cultures as freedom-fighters on the margins of cultural acceptance. Those familiar with Janice Radway's seminal study of readers of romance novels will recognise the same techniques and the same rigorously-analysed insights here, and Williamson's interest in and respect for her subjects is everywhere on display. For those who aren't yet fans, it's a fascinating way to get to know about fan cultures - never short on human interest, and the section on the inner politics of the Anne Rice fan club is a particularly tasty treat. This is clever and careful analysis, opening up a new way of thinking about fandom as a cultural field.

Williamson's ethnographic research is so strong that it ends up putting the rest of her work somewhat in the shade. Her first chapter, on Dracula, seems tacked onto the rest of a study which deals mostly with contemporary writing, and doesn't involve the kind of close textual analysis you'd expect to find to back up a new argument about such a well-trodden field of research. Similarly, Williamson's critical insights into the cultural politics of Buffy may have been better rehearsed and developed by other researchers, and don't always seem to add much to her excellent analysis of the series as fan-led; and her final section, on women fans' dressing as vampires, doesn't seem to interrogate the categories of gender, and the problems of being a woman in today's society, that it works from. Hard-nut theory-heads might also take issue with Williamson's argument that the vampire's 'Otherness' is now seen as non-threatening - the point of 'Otherness' surely being that it's a category that can't be elided or subsumed. Where Williamson's cultural theory is heavyweight, her literary studies pull their punches somewhat, leaving readers with the odd feeling of imbalance between the book's first and second parts.

The Lure of the Vampire may be more at home in its cultural studies than its lit crit skin, but this is not to diminish its status as, at times, an illuminating book. Its ambitious scope also means there's something for everyone, from the seasoned fan to the white-nightied virgin; although if you were hoping from the jazzy front cover to find it stuffed with photos and film trivia, think again - it's more of an academic text than a coffee-table tome. The Lure of the Vampire's major achievement is to integrate cultural studies and Gothic fandom, opening up some important critical ground. Dig out your lace collar and dust off your stake - it's open season on vampires again.