ThinkSync Films Short Film Competition 2007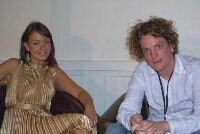 With the illuminated South Bank as a backdrop, on the floating venue that was the HMS President, the second year of the ThinkSync Films Short Film Competition got under way. FilmExposed's Matthew Supersad went along to mingle with the winners, and have a natter with the organisers Connie Farr and Oli Harbottle (pictured), the dynamic duo behind ThinkSync Films, an initiative set up to nurture emerging filmmaking talent…

Innovatively marrying the mediums of film and music in one collaborative package for the benefit of budgetless filmmakers, this year's ThinkSync Films Short Film Competition offered 50 diverse tracks for applicants to download for free from the website. The rules were that at least one track was to be used in a short based on the theme of 'twist' that lasted no more than ten minutes.

The scene was set in the Ball Room aboard HMS President for the screening of the five finalists' films. First up was the Australian film Submission (dir: Ariel Kleiman), a comically disturbing tale of geriatric mania; Twist (dir: Dominic Cleary) was a stylistically simple snapshot of paranoia within the tunnels of the London Underground; American film Beans on Toast (dir: Nic Marshall) proved an unfulfilling study of a girl's obsession with the relationship between food and her body; and the animation New Light of Tomorrow, while visually striking, could have done with being longer to clarify its rushed narrative.

But it soon became apparent that one film in particular struck a chord with the assembled audience. bigboy_74 has its suicidal protagonist, Harry, treated to some car-bound sexcapades by an unknown woman. This case of mistaken identity benefited from editing that maximised the potential of a brilliantly written comic situation. In the end, Harry, having received a bit of a kicking from the frisky stranger's irate boyfriend, drives off with a laugh upon his face and the realisation that he's alive thanks to this most bizarre and – ultimately – welcome of circumstances. In receiving the £1000 prize, the director, Tom Marshall, was joined onstage by his main actors Harry Met and Jo Hartley, both of whom were note perfect as suicidal Harry and his unexpected fling. Met whipped up the audience even further with the sincerity of his humbleness: "This is bonkers – I'm a car salesman from Teesside!" Later, securing an interview with the winning director turned out to be a far from humbling experience in terms of his unwillingness to participate. Pulling a "I've-just-left-my-camera-at-the-table" trick, he never materialised for his FilmExposed exclusive, perhaps the combination of free Cobra and success having gone to his head.

But it was a different matter entirely in approaching the founders of ThinkSync Films, Oli Harbottle and Connie Farr. Affable and accommodating, they proudly promoted their venture with gusto, both agreeing there was a marked increase in the quality of applicants' films over the previous year.

From both artistic and business angles, ThinkSync Films is a sound proposition: it's a competition and event designed to "search out, celebrate and reward creative new independent film-making talent, with particular attention to the role music plays", stresses Farr's website blog. And this dictum is the fruit of the seed that brought Farr, who works for the independent music publisher Cacophony Music, and Harbottle, now Release Coordinator for Dogwoof Pictures, together. Elaborating, Harbottle said that during his time as Producer of the Raindance Film Festival he received a brilliant film for which the director hadn't secured festival clearance rights for the soundtrack. Contacting the studio that owned the rights elicited the matter-of-fact response: "flat rate: 10 grand"; Harbottle's equally matter-of-fact reaction was: "...this irked me!"

Over on the music industry side of things, Farr would get "calls the whole time from people who didn't know how music and film work together legally". And since the filmmakers by whom Farr was often contacted had a "low budget or, in some cases, no budget to work with music", it occurred to her that "it would be a good idea to let them have a gratis licence... to give them the opportunity to use the music while they're pitching their film to different festivals and competitions, because we're not losing out while they're doing that and it's really good promotion for both sides." Consequently, Farr concluded that "Oli and I decided to create a mutually beneficial relationship between indie film and indie music and to try and raise awareness on both sides so that everyone gets a little bit more leeway."

In pooling their collective resources and knowledge of the music and film industries respectively, Farr and Harbottle founded ThinkSync Films in defiant protest against the restrictive and inhibitive business practices of the 'moneymen' who favour pocket lining over idea mining. Truly progressive in scope, ThinkSync is leading by example and, as an exercise, empowers those with creative ideas who lack the financial means to realise them.