A Chat With Keith Fulton and Louis Pepe...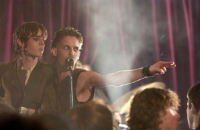 BROTHERS OF THE HEAD will open the 14th Raindance Film Festival on Wednesday 27th September. Directed by documentary filmmakers Keith Fulton and Louis Pepe, it's also set to be one of the best indie films of this year. FilmExposed's Chris Power chats to them…

Has a film ever had two directors more fittingly paired with its subject matter? In Brothers of the Head, a multi-layered fake documentary about a fictional band that manages to feel utterly real, Tom and Barry Howe are conjoined twins whose brief, incandescent music career forges the missing link between pub rock and punk. In real life, co-directors Keith Fulton and Louis Pepe live together, have worked together since film school in Philadelphia nearly 20 years ago, and have an unerring ability to finish one another's thoughts without missing a beat.

"I think it was sort of a double mirroring process for us as a couple working with Harry and Luke (Treadaway, identical twins who give remarkable performances as Tom and Barry)," explains Fulton, who looks and sounds uncannily like a shaven-headed Matt Dillon. "It was kind of this double twinning thing going on. We infused a lot of ourselves into Tom and Barry, and I think Harry and Luke spent a lot of time trying to figure out the dynamic between me and Lou."

While the film's premise – conjoined twins are discovered by a London impresario who harbours ambitions of creating a pop band built around a 'Siamese twin' gimmick, only for his charges to launch themselves into spiky, spittle-flecked pre-punk – makes it sound like a black comedy or farce, Brothers of the Head is a deeply moving work, wherein the familiar crash and burn rock'n'roll archetype serves the personal stories of Tom and Barry rather than being the story in and of itself. Although it portrays "a classic rock'n'roll rise to fame and rapid crash," says Fulton, "there's so much going on in the film, so many creepy, disturbing things, that there's something satisfying about having a conventional, easy plot to hold on to. Because if it didn't, if we had no paradigm to cling to, the movie could have gotten very messy."

In fact, despite the complexity of its framing, with 1970s documentary footage intercut with older versions of the protagonists looking back on their time in and around Tom and Barry's band, as well as segments from a lurid '70s Ken Russell film about the twins, what could have been an almighty mess is both remarkably focused and accurate in its capturing of real life randomness. It's something that Fulton and Pepe's backgrounds as documentary filmmakers, not least, their time spent on the shambolic set of Terry Gilliam's abandoned Don Quixote, which became Lost In La Mancha (2002), must have helped with.

"I think we're more open to embracing chaos," Fulton agrees, "because a lot of documentaries are about applying order on a totally chaotic situation. Although we had control and decided upon everything that was going to happen, we were open to things that would be unexpected, or spontaneous, and really embraced that stuff because for me that makes for much more compelling, realistic drama."

At the same time, the film's unusually long rehearsal process (brokered by producer Simon Channing Williams, familiar with this sort of approach from his work with MIKE LEIGH) allowed the actors to thoroughly inhabit their characters, as well as allowing those playing band members to learn their instruments and perform the songs (brilliantly composed by Clive Langer) for real. "The actors were allowed to go off the script as long as they were playing the dramatic intent of the scene," explains Pepe. "And while people might go 'Oh, it's a fake documentary about a fake band,' the band was actually real by the time we made the film."

This dovetailing of reality and fantasy is, finally, what makes watching Brothers of the Head such an involving, invigorating experience. "I think coming from documentaries, there's this kind of thrill you get when you've captured something," says Pepe, "captured a moment or a conflict or a character that just can't be beat in a fiction film. In fiction films somehow it all feels manufactured, so the question was how do we get the energy of documentary into a fiction film?" If you want that question emphatically answered, Pepe and Fulton's film is waiting for you.

Brothers of the Head will open the 14th Raindance Film Festival on Wednesday 27th September, and is released in cinemas on Friday 6th October.