Oscars: Brits Nominated in Short Film Category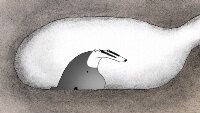 Blimey, it's that time again with the Oscars fever now upon us. The big night is now just five weeks away and the press will be full of Hollywood's glitterati and their opinions. What do they think of the nominations? What are they going to wear? Which film do they think will win? What are they going to wear? The Brits haven't done too badly either with three directors up for gongs in the Short Film Category…

Three British filmmakers are celebrating today having received Oscar nominations in the Short Film categories. New British animation talent Sharon Colman is up in the Best Animated Short Film category, just one year after finishing film school. Made at the UK's National Film and Television School (NFTS), Sharon's film BADGERED (pictured) – about a badger who just wants the world to let him sleep in peace – has already won plaudits at festivals around the world since its premiere at the Cannes Film Festival last year. Said Sharon, "Getting this nomination is amazing and I haven't yet quite taken it in! This kind of recognition is a big thank you to everyone who believed in Badgered and helped make it happen."

Sharon follows in the footsteps of former NFTS animation Alumni Nick Park, winner of two Oscars for his Wallace and Gromit shorts, and now for WALLACE & GROMIT: THE CURSE OF THE WERE-RABBIT, and Alison Snowden & David Fine, who won the Best Animated Short Film in 1995 for Bob's Birthday.

Nominated in the Short Film Drama category is Sean Ellis for CASHBACK, a comedy about an art college student on night-shift at the local supermarket. It has already picked up a clutch of awards including the 2005 Tribeca Film Festival Best Narrative Short. Martin McDonagh's SIX SHOOTER equally has won gongs galore including 2005 British Independent Film Award for Best British Short, and was also nominated for a BAFTA in the same year. Set on a train, it follows a man, whose wife has just died and on his way home from hospital. He encounters a young man who will not stop talking, and who gets more offensive by the minute. "We're over the moon about the news. It's been an amazing journey, the one we've taken with this film, and this is the ultimate validation," says Producer Mia Bays.

Wish them all the best of British!

The Oscars will take place on Sunday March 5.