A Chat With Neil Jordan and Cillian Murphy...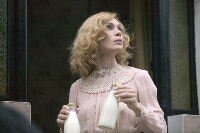 Neil Jordan's BREAKFAST ON PLUTO stars Cillian Murphy as the androgynous Patrick "Kitten" Braden. The film follows Kitten's bizarre, often hilarious and at times tragic life, and highlights Murphy as an outstanding actor whilst continuing to prove Jordan's ability to deliver memorable films. FilmExposed was invited to ask Cillian and Neil a few questions…

Based on Patrick McCabe's novel of the same name, Breakfast On Pluto grabbed the attention of both its director and star when the book was published in 1998. "It was really a set of intriguing possibilities", explains director Neil Jordan, "so adventurous and so unusual in its form. It seemed like an impossible task and I'm fascinated with what's difficult."

For Jordan, the story in Breakfast On Pluto had to be changed in several significant ways from the novel, particularly in regards to Kitten meeting her mother and finding her father. "I always felt the book was unfinished," says Jordan, "Patrick had resisted bringing it to a conclusion. When making the movie you have to finish the imaginative journey." Jordan talks from plenty of experience when it comes to the themes explored in this film. Though no one can accuse him of making the same film twice, with such varied offerings as The Crying Game (1992) to Interview with the Vampire (1994) and even the recent The Good Thief (2002), you can always spot similar themes running through the veins. "I always try to do the same thing through different means. In some ways I always make the same movie, but not in the same way as Mike Leigh or Ken Loach. I'm always interested in expressing similar things to a different set of tools. That's why the films I do vary so much."

For an up and coming Cillian Murphy, the chance to play such a demanding role was an alluring one. "I had read the book when it came out and was a really big fan before I knew anything about it being a film. I heard that Neil had written a script with Pat and managed to get a screen test with them in '99." However, Jordan's plans to make Breakfast On Pluto were placed on hiatus for several years as he concentrated on other projects. It was the persistence of Murphy that got things moving. "The really, really good roles you've got to chase, to fight for," enthuses Murphy, "Neil was producing a film I was in (Intermission (2003)) and I kind of pestered him about it then. It was also a case of, I'm 30 this year and you've only got so long you can play that age, you know?"

Breakfast On Pluto's cast is impressive with hilarious cameos from the likes of Brendan Gleeson, his character employed as Great Uncle Bulgaria of Wimbledon Common, to the downright scary (and rather brave) homicidal role played by a surprising Brian Ferry. Murphy – who had previous experience of an ensemble cast with Intermission – found it all highly rewarding? "I love working in ensemble films, it makes it a lot more interesting and every day you're gonna have to step up to the mark. All these guys, particularly Stephen (Rea), Liam (Neeson) and Brendan have paved the way for Irish actors and they've given me such support and advice over the years."

"Kitten" will no doubt prove to be one of the most memorable characters in recent times. To pull her off successfully would require something special. Jordan first spotted Murphy in a short excerpt from an Irish movie. He screen-tested him and found him to be nothing short of "amazing". But creating "Kitten" was hard work for them both. "We didn't want the character to be camp, or queeny or bitchy", explains Murphy, "we wanted her to be feminine and for there not to be an "on" and an "off" switch as you find with some drag queens." Indeed Kitten is a unique entity; transvestite doesn't seem an appropriate adjective for her as she is who she is. Patrick's transformation into Kitten isn't so much an escape from being Patrick but as a transformation into who Patrick really is. Murphy agrees, 'Yes, it's a very rare thing to find someone so relentlessly themselves - most people aren't,' he smiles.

So in control of the part of Kitten is Murphy, one is convinced that he must come from the Bobby De Niro school of acting; that one throws oneself totally and utterly in whatever the role demands. He has a look that tells he has just been busted. "Ahhhh no, I didn't drink brown sauce in my tea in Intermission. I should have really but it was actually chocolate sauce."

Confused? Get yourself a copy of the film – but see Breakfast On Pluto first!