A Chat With Mark Dornford-May & Pauline Malefane...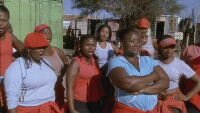 Opera an elitist art form? Not in the hands of British director Mark Dornford-May. He's taken a Bizet classic, swopped Seville for South Africa and let rip the belting vocals of singer Pauline Malefane to bring Carmen to the masses on the big screen. FilmExposed's Chris Power met them both…

It's a familiar, inspiring story: the opera singer who, as a young girl, was swept away by her first experience of the art form. Except it didn't quite work out that way for Khayelitsha-born actress and singer Pauline Malefane. "When I was at high school we went to see Don Giovanni," she recalls, "and you know, to be honest, I never thought about opera ever again after that day. I wasn't really interested."

Fast forward a few years and Malefane, who wound up studying opera at university for want of anything better to do, is the smouldering heroine of the award-winning U-CARMEN eKHAYELITSHA, which relocates Bizet's masterpiece from 19th century Seville to a 21st century South African township, and swaps the original's French for the open vowels and distinctive clicks of Xhosa. Directed by British first-timer Mark Dornford-May (like Mendes and Daldry before him, a theatre director who has seamlessly switched disciplines), U-Carmen has the potential to re-energise what is often viewed as an irrelevant and inaccessible form. "What I've always found with opera," says Dornford-May, "is that you've got the musical side to it, the narrative line of the story, and dance; you've got all the performing arts in one, and the way it's been hijacked by a glittering social elite is really nothing to do with the art form."

U-Carmen's cast is drawn from the Dimpho Di Kopane performing arts group, the creation of which was what originally brought Dornford-May to South Africa. Considering that most of the 40-strong troupe had never set foot in a theatre when they were hired, their rapid transition into an international theatre company (the stage version of U-Carmen was a worldwide hit) has represented the steepest of learning curves. "And it's not just me doing the teaching," Dornford-May enthuses. "I've also learnt a tremendous amount about theatre, how it works and what it means. It's been very much a two-way process."

As for updating the opera by 130 years and moving it from Europe to Africa, not to mention translating the libretto, Malefane and Dornford-May (who co-wrote the script with Andiswa Kadama) maintain that it was a fun, if painstaking, process. "It took us 6 months to translate the whole thing," says Malefane. "We had to stop and start and listen to what it sounded like and how it felt, and take care over the language. We didn't want it to sound static, we wanted it to flow." The finished piece works remarkably well, those changes that have been made adding to rather than detracting from the original. As Dornford-May explains, "we found in the opera the toreador character was quite two-dimensional. We wanted to flesh that out to help give more depth to the character of Carmen, so it wasn't just this cardboard cut-out she was playing with. Giving him a past as an activist and making him a famous opera singer gave us a way through that."

This attention to detail filters all the way through to the sound mixing process, which pitches the viewer into the dusty yards, rickety shacks and echoing stairwells of Khayelitsha. It all sounds so real thanks to the inspired decision to mix live singing at the scene and playback from pre-recorded studio sessions. "I've found a lot of operas and musicals on film kind of disappointing," says Dornford-May, "and I think it's because one of the great things about opera and musical theatre is the huge physical energy of the performer: when they're actually singing there's a massive physical force, and you rarely get that in a filmed version. In Chicago (2002) they'll do all these fantastic dance routines but no one's sweaty, and in a funny way the sweatiness is part of the excitement when you're watching it on the stage, and so we wanted to try and get that into the soundworld very much."

Despite plaudits raining down on U-Carmen, basking in the glow is the last thing on Malefane and Dornford-May's minds. New film Son of Man, a modern African retelling of the life of Jesus Christ, has just won best feature at the Los Angeles Film Festival, and was nominated for the Grand Jury Prize at Sundance. "Pauline plays the Virgin Mary…" smiles Dornford-May "…which is a bit of a stretch." Malefane shoots him an incandescent look that's pure Carmen as she measures out her response: "And why is that a stretch?" At the moment, it seems, nothing is beyond this pair's talents.