A Chat With Stéphane Brizé…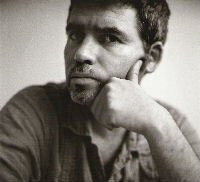 Six years after his debut film Hometown Blues (1999), Stéphane Brizé has finally returned to cinemas with NOT HERE TO BE LOVED, an enjoyable low-key story about a middle-aged bailiff who finds romance and a new lease of life when he enrols for tango lessons. FilmExposed's Phil Concannon met him to talk tango, music and his film ambitions involving a football god…

For Stéphane Brizé, this story had some parallels with the struggles he had experienced in the years between his two features. "It was very difficult for me to continue after my first film, I lost my way, and it took a long time to find my way again" he says, "at one time I told myself "you have the right to be a director" and the character of Jean-Claude is older but he tells himself "you have the right to be happy in your life", so it's exactly the same story, but my own story would not be very interesting on the screen so I have to imagine something else".

Brizé's decision to base his story around the tango was a brave one as he admits he knew nothing about it beforehand, and the film proved to be a learning process for his cast too. "Patrick told me that a long time ago he had danced a little, but not tango" Brizé says, "but when I saw him I saw somebody who was at ease with his body, and at the very first lesson his teacher said "we have work, but Patrick (Chesnais) and Anne (Consigny) have tango in their blood, so it will be OK"". The writer/director knew his central pairing was crucial to the film's success, so he was delighted to see his two leading actors striking up such a strong relationship during their rehearsals, a chemistry they managed to express onscreen as well. "When I saw Patrick and Anne together it was incredible" he recalls, "even if they didn't dance very well it was already a couple, and we could feel a very strong energy, almost a sexual energy, so I knew it was the right choice. I knew this man and this woman could create something very special on the screen, and it would be much easier for me because the spectator will feel it, even if he doesn't understand what he feels".

Given the importance of dance in the story, particular attention was paid to the film's music, with acclaimed group Gotan Project being enlisted to compose Not Here To Be Loved's score. Brizé wasn't sure what to expect from the band, but he was delighted with the result: "Before the film they played me two pieces of music, and when I heard that I was very moved because I heard the music of my film. They had understood the feeling of my film and I loved the music. But then I said to myself "I have to make a good film because this music is so good", so it was another challenge for me".

After a six-year gap between his first two films Brizé appears to be making up for lost time now; his latest film Among Adults was an experimental picture which he wrote, shot and edited in just eighteen days. "Claude Lelouch saw Among Adults and he loved it. He said "you cannot leave that film on the shelf, we must release it"" Brizé says, and he was stunned when the film received rave reviews from the press: "It's an incredible experience because I never expected any spectators to see it on the screen, and it was wonderful for the actors too because it was their first time on screen as well".

The director is now working on an adaptation of Eric Holder's Miss Chambon, and he is planning another screenplay for which he has a particularly adventurous piece of casting in mind, the great ZINEDINE ZIDANE. "Is it easy to make a film directing somebody who is a demi-god? I think it would give me a lot of pressure!" the director laughs, but he believes the former footballer would be perfect for the role: "It would be fantastic for the film because he is exactly the character. He has a kind of light inside of him, an incredible presence, and he would be wonderful on screen. I don't know if we can get him, but I will try".