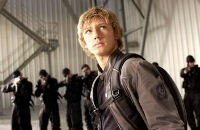 There's a new spy on the block. He's British, he's blonde… and isn't Bond! Created by novelist Anthony Horowitz, Stormbreaker, the first book in the best-selling series about teen-spy Alex Rider's adventures, is unleashed in the cinemas on Friday July 21 by Entertainment Film Distributors. It's set to be a big hit with the kids over the summer hols; the boys will want to get their hands on Alex's gadgets, and the gals, well… on Alex. Read on, and you could win a piece of him too…

"All I know is that he has got to be 14-years-old, drop-dead good looking, fit and be a good actor. We know he is out there somewhere," said Alex Rider creator Anthony Horowitz. And he was. 16 year old actor Alex Pettyfer, who beat off 500 hopefuls for the part, ticks all the boxes and will no doubt have teen girls pinning him up on their bedroom walls.

But while Pettyfer was clearly enjoying the adulation from his adoring fans at last night's premiere, his character 14 year old Alex Rider is a somewhat reluctant hero, being thrown into the world of espionage after the mysterious death of his guardian Uncle Ian (Ewan McGregor). He discovers that his uncle was not a bank manager but a spy who was murdered by assassin Yassen Gregorovich (Damian Lewis). He also discovers that by encouraging his scuba diving, mountaineering, shooting and martial arts hobbies, his uncle had prepared him fully for life as a spy. Needless to say, Alex is soon recruited into the of the Special Operations Division of MI6 where his first mission is to save the schools of Britain from a dose of deadly computers courtesy of bad guy Darrius Sayle (Mickey Rourke).

Stormbreaker will appeal to fans of the books - kids. But with fast-paced action and high-octane stunts, there's also enough here to keep the wrinklies happy. "He's no child; he's a lethal weapon." Indeed. Alex lets rip his arsenal and his super-spy training by blowing up buildings; jumping out of planes; dangling from a helicopter and dispensing with the baddies with his crack-shot rifle skills and not to mention his nifty manoeuvres on a quad bike.

And gadgets! No self-respecting spy can do his spy-thing without them and Alex has a few goodies up his sleeve… in his boots… his pants. The nib of his fountain pen can be fired from six metres and contains a serum where whoever it hits will do exactly what Alex tells them for over six hours; a magnetic yo-yo complete with a miniature traction engine and super-strong-string; and what every teenager wouldn't be without – zit cream! Only this one – when applied to metal – will munch its way through it, up to eight inches of steel. And there's also his hard shell backpack which conceals a parachute to get Alex out of sticky situations.