A Chat With Jonathan Caouette...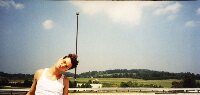 The early years of Director Jonathan Caouette's life was a horrific nightmare. At 11, he took refuge behind the camera and filmed those nightmares. FilmExposed's Sandi Chaitram finds out why…

TARNATION spans over twenty years. A mother is in and out of psychiatric hospital; her son at 5, witnesses her being raped, is physically and mentally abused by his foster parents and at 12, he is diagnosed with a 'depersonalisation' disorder shortly after smoking a joint loaded with formaldehyde. Years later the son, now an adult, tearfully makes a phone call to find out how his mother is after a lithium overdose.

Director Jonathan Caouette's Tarnation is not an easy film to sit through. It delves into the recesses of an unbearably dysfunctional family and blatantly asks its audience to look at the mess. You might shift uncomfortably in your seat; you might want to look away, but Caouette draws you in and keeps your eyes fixed firmly on the screen. And more disturbingly, fixed firmly on him. Tarnation isn't fiction but a documentary about Caouette's life story to date comprising of family photos, home movies and video diaries strung together with the pop music of the day.

Why on earth would anyone want to film himself taking a call to find out how his mother is after a lithium overdose? Why? To even begin to understand, one has to realise that what Caouette shows in Tarnation was never meant to be seen by the public at all; filmmaking was Caouette's 'therapy', one he started at the age of 11. "It became a means of disassociation and escape. By picking up a camera when I was a kid, I found a way to survive the life I was enduring. I used the camera as a weapon, a shield and a way to illuminate how I was feeling about everything."

Given the intensely personal nature of the film when asked how its promotion is going, Caouette admits that he has been completely overwhelmed by the response, and at times 'it feels a little weird'. What started out as a cathartic exercise ended up in the public domain by chance when a work colleague saw snatches while Caouette was editing it and suggested he entered it into a film festival. Since then, and taking Caouette completely by surprise, Tarnation was championed by some of the most respected voices in film. Stephen Winter, festival director of MIX (The New York Lesbian & Gay Experimental Film/Video Festival), and directors John Cameron Mitchell (Hedwig and the Angry Inch) and Gus Vant Sant (Elephant) on seeing the early versions of the film, all signed on as producers. And so far, Tarnation has won five awards including the 2004 London Film Festival's Sutherland Trophy Award.

The said early versions kicked in at just under 3 hours. By the time it got to the Sundance Film Festival it was a mere 88 minutes. Editing his life was a major headache for Caouette and called for him to somehow adjust his mindset and the way he viewed his work. Tarnation was no longer 'therapy' but a product that had to fit into clearly defined parameters - in this case twenty years of footage squeezed into 88 mins.

"It was very hard to edit. I remember the first Q+A at Sundance, I was having a challenging time as even tho the film was out there, I still felt that I had to prove and justify myself as a filmmaker by severing my emotional attachment to the film," says Caouette. "That same sensibility was part of the editing process too. I really had to disassociate myself, from 'me' in the film and somehow put this together without being personal about it, while still remaining true to my heart about what I was trying to do with it as 'Jonathan' the filmmaker."

Caouette understands that Tarnation will not endear everyone, and he's fully aware that some will view it, and him as narcissistic and self-indulgent. However, it is also a film that will take you to a place where one hope's never to go to in one's lifetime. Fictional accounts of mental illness are sanitised for our entertainment; Tarnation, whether you like it or not, tells it like it is; Caouette takes you inside his messed-up head.

Budging up on the sofa next to Caouette it was difficult at first to know how to approach him; having sat through 88 minutes of his life, you feel you know him, maybe far too much. But Caouette makes it easy. He is totally at ease, smiles warmly and can talk for England. His mother Renee sat opposite us sips orange juice while listening to her son. After the horrors both have endured over the last 31 years, it's moving to see Caouette giving reassuring looks and smiles to his mother throughout our chat. No drama; no hysterics. This is Jonathan and Renee with the camera off.

With Tarnation, you really only get half the story. It's an emotional roller-coaster of a journey; one worth checking out.